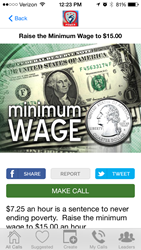 Software time teaches patience.
Peoria, IL (PRWEB) May 26, 2015
The team at Callitics, LLC has released an entirely new version of its political lobbying app that lets anyone become as powerful as a K Street lobbyist. Just download the app and create a call that is targeted at any level of government on any issue.
"We used deeplink.me to give our app a viral power that it did not have before," says founder Tom Howard. The deep linking allows the user's call for change to be shared all over the Internet and anyone on a mobile device that clicks the link is taken directly to the call in Callitics' app. A user does not have to remember any phone numbers, just tell their elected leader.
When asked how the Peoria based start up plans on expanding its user base, the founder smiles and provides a fairly abstract answer: "We're building the business model that Peter Thiel used to launch Paypal."
The company hopes to launch the new business model by July 4, 2015. Callitics focuses on getting people more involved in politics by giving them a voice and decentralizing the money in politics.
"The customer discovery phase is going well. Once we add the business model to it, we think Power to People's user growth will become geometric," says Howard. Callitics is leveraging what they have learned about internet marketing from their other project, News Meme.
News Meme allows anyone to take a URL and turn it into a meme. The result are memes with a twist. Unlike the memes flooding the internet, News Memes are a portal to internet content.
"The highest and best use of News Meme is taking content that is interesting but does not share well, like scholarly articles, and making an eye-catching meme so that people can learn more about it," says Howard. News Meme is optimized for mobile traffic and is overseeing steady user growth.
With Power to People and News Meme continuing to expand, Callitics, LLC starts its second year in operation with more going for it than ever before. Callitics, LLC is a startup from Peoria, Illinois. It focuses on creating small, fun and useful software that puts its users first. Follow up with them by e-mailing Howard(at)callitics(dot)org