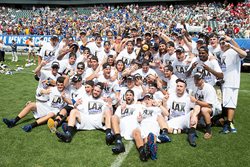 The Limestone Saints are a great team and have a dominant lacrosse program. We're proud that they practice and play on a Shaw Sports Turf field
Philadelphia, Pennsylvania (PRWEB) May 25, 2015
The Limestone College men's lacrosse team, which plays on Shaw Sports Turf, won the NCAA Championship in lacrosse on Sunday in Philadelphia.
This Saints made their ninth trip to the National championship game to defeat LeMoyne College 9-6. It was their second consecutive title and fourth overall.
J.B. Clarke's Saints went 20-1 this year, setting the NCAA Division II record for most wins in a season. Over the past two seasons, the Saints are an amazing 39-2.
Saints player Jeff Messenger led the team with four goals and an assist.
Limestone College paved the way for the sport of lacrosse in the South. In 1990, they became South Carolina's first collegiate lacrosse team. They have earned 17 straight regular season conference titles. They have also won conference tournament championships in 1994, 2000-2007, and 2009-2015.
Their previous national championship titles came in 2000, 2002, and 2014. The 2000 title gave Limestone claim to the smallest co-educational institution to win a national championship. The 2002 team was responsible for most of the fundraising for the new Shaw Sports Turf field.
A combination of over-use and the need for new facilities prompted the move to Shaw Sports Turf. The men's lacrosse team will share the field with the women's lacrosse team, men's and women's soccer, and field hockey.
The Saints utilize Shaw Sports Turf's Legion system, which is a combination of high-performance monofilament fibers and a durable slit film fiber. The slit film fiber is a workhorse which handles the workload, while the monofilament provides a more resilient surface that enhances performance characteristics.
"We really like the height and mixture of the Legion system from Shaw Sports Turf," said Jimmy Martin, Associate Athletic Director for Facilities. "The different characteristics provided by the slit and monofilament fibers help us with all the sports we play on the field."
"The Limestone Saints are a great team and have a dominant lacrosse program," said Andrew Barksdale, Territory Manager for Shaw Sports Turf. "We're proud that they practice and play on a Shaw Sports Turf field."
About Shaw Sports Turf
A wholly-owned subsidiary of Berkshire Hathaway Inc., Shaw Industries is a full flooring provider to the residential and commercial markets. Shaw supplies carpet, hardwood, laminate, resilient, and tile/ stone flooring products, as well as synthetic turf. Shaw Sports Turf is one of the leading synthetic turf companies in North America and has represented quality and innovation for more than two decades with over 1,500 successful installations, including an impressive list of high-profile field installations. For more information please visit http://www.shawsportsturf.com, call 866-703-4004 or find us on Facebook.