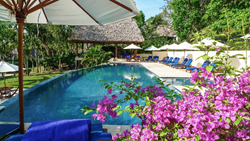 People are always telling us how pleasantly surprised they are by the ease of getting to and from Belize
San Ignacio, Belize (PRWEB) May 27, 2015
Southwest Air's recent announcement of new Houston to Belize City and return flights makes the little Central American nation even more accessible while highlighting the growing popularity of the former British Colony, according to a popular Belizean eco resort's marketing administrator.
The Lodge at Chaa Creek's Roberto Harrison said that the expanded air service is welcome news for both the travelling public and Belize's tourism industry.
Mr Harrison was referring to a recent announcement by Southwest Air CEO Garry Kelly that daily, direct Houston – Belize flights will begin on October 15 2015.
"Southwest is putting our promise, our people, and our planes on these routes because you deserve lower fares and better service," Mr Kelly told a crowd at a May 13 2015 beach-theme party organised to announce the flights at Houston's City Plaza.
Mr Harrison said the expanded service to Belize is a welcome change when compared to the limited travel options of the not-so-distant past.
"One of our biggest challenges in the early days of Belize's tourism industry was a lack of regular air service. When Chaa Creek opened its doors in 1981, there were a few flights a week from New Orleans and Miami, and that was about it.
"Today, there is excellent service provided by American, Delta and United Airlines, as well as Southwest Air, US Airways, Tropic Air and Avianca from a range of destinations that include Los Angeles, Atlanta, Dallas, Houston, Chicago, Charlotte North Carolina, Honduras, Mexico, Guatemala, El Salvador and other locations.
"In addition to ease of travel, competition between carriers has resulted in more affordable, higher quality travel experiences from a variety of popular hubs right across the United States. Travellers can now, for example, leave Houston and be in Belize in less than two and a half hours, or in just over two hours from Miami.
"With the new airstrip next door to Chaa Creek at Maya Flats, it's another pleasantly short hop before guests are checked into their rooms and enjoying a swim in our infinity pool or a relaxing lunch or dinner," Mr Harrison explained.
The Belize Tourism Board offers a website page dedicated to flight information, and further information can be found on the Chaa Creek website or through travel agents, he said.
"People are always telling us how pleasantly surprised they are by the ease of getting to and from Belize. It's a shorter hop than a flight between some US cities, and then you arrive in a truly exotic little country with pristine Caribbean waters and rainforests dotted with ancient Maya temples and cities.
"It's just another one of those things that makes Belize so unique, and it's wonderful that so many airlines are making it easier for so many people to experience that," Mr Harrison said.
The Lodge at Chaa Creek is a multi award winning eco resort set within a 365 acre private nature reserve along the banks of the Macal River in Belize.