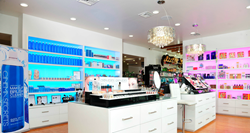 I was a cosmetologist. I owned a salon and thought I was being hired to do hair. In those days, women did hair and men did makeup. I had no idea until I was handed my equipment, a Max Factor Pan-Cake and sea sponge.
Burbank, California (PRWEB) May 25, 2015
Cinema Secrets welcomes the community to visit their recently remodeled retail store as they celebrate their 30th Anniversary with a Grand Re-Opening Red Ribbon Cutting. The City of Burbank, City of LA and City of Toluca Lake Chamber of Commerce will make proclamations. Presenters for the celebration include Reyn Blight, President of Toluca Lake Chamber of Commerce, Tom LeBonge and Fritz Coleman.
The two-day event is open to the public and is Cinema Secrets way of saying thank you for thirty years of support. Over twenty major cosmetic companies will be represented with live demonstrations and product giveaways. Pro makeup artists will perform mini-makeovers. Guests enjoy special catering treats and beverages.
The grand re-opening will highlight the new renovations in a fresh modern design with new products. Cinema Secrets will highlight how they have evolved over thirty years.
30th Anniversary Community Event & Grand Re-opening

Free to the Public – In Store Events
Friday- May 29th (10:00 AM to 6:00 PM) with Ribbon Cutting at 1:00pm
Saturday – May 30th (10:00 AM to 4:00 PM) Public In-Store Events
Private Event – Invitation Only Exclusive Makeup Pro Event
Saturday – May 30th (5:00-8:00PM) Private In-Store Event
*Press must call in advance to RSVP
About Cinema Secrets
In the 80's, Maurice Stein, retired as a professional makeup artist in the entertainment industry to found a small cosmetics and special effects supply in Burbank, Maurice's Cinema Secrets became an instant hit among makeup artists, studios, and many of "Hollywood's most expensive faces."
Stein was the first makeup artist inducted to the California Cosmetology Association Hall of Fame and is included in the National Cosmetology Association Hall of Renown.
Maurice also formulated his own line of cosmetics to satisfy the special needs of the entertainment business and advance standards for clinical applications in the medical industry. He regularly volunteers to help cancer patients and burn survivors use makeup to minimize the appearance of scars and discoloration.
Through the American Cancer Society and through the assisted help of the National Cosmetology Association, Stein became one of the first make-up professionals to provide his corrective makeup products, techniques and educational services to the national Look Good, Feel Better Program. Stein has also worked with cancer patients at City of Hope and burn survivors at The Phoenix Society, five children's burn units in Shiners hospitals, the Johns Hopkins Burn Rehabilitation Center, and the Grossman Burn Centers.
Maurice's Credits: Small glimpse from his career of over 200 films and television shows and has more than 4,000 commercials to his credit.
Film

Planet of the Apes
Funny Girl
Friday the 13th
Television

The Golden Girls
Soap
M*A*S*H
Star Trek
The Flying Nun
Other Distinctions

Member of the California Hair Fashion Committee
Past President of the Society of Make-Up Artists
Past President o the Make-Up Artist and Hairstyling Union
Standing member, National Academy of Television Arts and Sciences
NATAS Blue Ribbon panel member for selection of Emmy-award nominees
Board of Directors member of several national charities
Social Media:
Facebook: facebook.com/cinemasecrets.com
Instagram: instagram.com/cinemasecretspro/
Twitter: @cinemasecrets
YouTube: youtube.com/user/CinemaSecrets