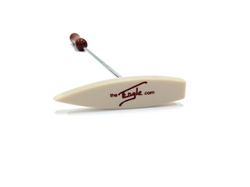 (PRWEB) May 25, 2015
Earlier this year, Engler Innovations traveled to SXSW 2015 in search of the best new emerging artists to take a fresh approach to guitar playing. The team interviewed many new acts, while putting the innovative guitar hammer, The Engle, in their hands. The People The Poet has since clicked with The Engle. Watch as the band learns about the product and tries it out for themselves, crafting how it will fit in their unique and accessible sound.
The People The Poet is a vocal and guitar rich folk five-piece from South Wales. In 2012 the band released their second album, The Narrator, a work consolidating the stories of fans. Since then, they've received great reviews from Already Heard, Soundscape Magazine, Electric Banana, and Punktastic, among others.
The People The Poet were introduced to The Engle at SXSW earlier this year. Since then, the charming bunch has started experimenting with the product. The creators of The Engle are excited for the potential to have The People The Poet use the guitar hammer on their upcoming release.
For more info on The People The Poet and their upcoming happenings, visit them over at http://www.thepeoplethepoet.com/
For more info on the new innovative guitar hammer, The Engle, go to http://www.theengle.com