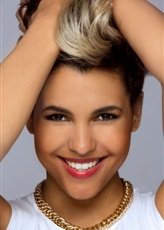 When I was first told I was going to Justin Bieber, I could not believe it. It was crazy, I felt this rush of Adrenalin!
(PRWEB) May 27, 2015
Vita Chambers has established her distinct identity through her music and with a uniquely styled blonde streak look. She has proved her talents from a very youthful age and has marked her distinction among young emerging artists with sales of over 350,000 copies of her song Fix You in Canada, finally achieving a Gold Status. She has also won Pop Artist of the Year Award at Teenz Fav Awards 2013and twice nominated for Canadian Radio Music Awards 2014. Vita was also the #4 emerging artist on the Canada Billboard Chart.
While narrating her story to TicketsMove MAG Vita Chambers tells that her first vocal lessons were the outcome of a series of events which gave a certain direction to her life. She placed her initial music on myspace and luckily got heard by the right people. This was the time when Vita Chambers grabbed the very first opportunity and decided to make her career in music.
She pulled a great performance before her idols like Chaka Khan, Toni Braxton, Robin Thicke, Boyz 11 Men. The surprising element was that she was given just an hour slot to do the choreography for the song and she never had done choreography before. Vita explains how she was able to pull it off. She further states that she owes her brilliance to Estelle. She also explains how Estelle made her believe in herself in this Exclusive Session.
When asked about her songs' lyrics, she tells, "I write from my experiences, I write what I feel, I write all the thoughts that run through my mind". She further says that she buries herself within herself. She does not necessarily have to apologies or explain, she just puts her lyrics down. She feels gravitated towards Imogen Heap. She states, "I love her lyrics, I love the way she puts things, I will just sit there and just listen for hours over and over again. The way she would put harmonies on to one another musically and what she would say and how she would say things." She thanks Imogen for coming up with such simple yet incredible work. She also thinks that she owes a lot of her writing skills to her.
She considers getting a chance to do the opening act on Justin Bieber Tour as the most exciting event in her career. The news were quite overwhelming and made her excited. With excitement, she started screaming so hard that her mother came in to enquire about the reasons behind the madness. Interestingly, when her mom heard it, she started to act the same way as Vita was doing.
While explaining about her music in her upcoming EP, Vita Chambers reveals that it's all about her experiences of love, the heartbreak and all the things that she could not necessarily rationalize on her own. These are not the songs that she has written immediately rather she has written them over a period of time. So this is going to be Vita Chambers telling her story in her up coming EP!
On a humorous side, she tells that Bruno Mars song Uptime Funk gets her going in the gym. She can't help herself and starts dancing on this song. The songs takes her into her own world and then she does not care about anything else!
Vita believes that her fans are responsible for all energy that she possesses specially the ones who have been following her since the very first day. On a humorous note, she talks about winning "Pop Artist of the Year" award as she did not know about it. She tells how she reached on the stage to receive the award barely dressed. She also tells about an accident she faced on stage during this exciting interview with TicketsMove MAG.
Ramiro Production, Inc. is proudly managing this young and incredible popster. They are working hard on Vita's upcoming album and hope that she will leave a mark on the pop music scene with her bold lyrics and outrageous presentation.
There are quite a few very interesting things which Vita Chambers reveals about herself while talking with TicketsMove MAG. Have fun while watching it!