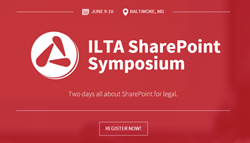 Baltimore, MD (PRWEB) June 01, 2015
Qorus Software, a leading provider of proposal management technology, is exhibiting at this year's ILTA SharePoint Symposium, taking place from June 9 – 10 in Baltimore.
Qorus will be exhibiting Breeze Proposals, an innovative piece of proposal management software that is built on SharePoint and designed to make firms more productive and effective.
Qorus recently became an Alliance Partner to Thomson Reuters Elite, and is taking the legal sector by storm with a system that works from within Microsoft Word and PowerPoint, and integrates seamlessly with SharePoint and CRM systems. Features include intelligent templates, a guided cart for creating proposals using pre-approved content, and a Q & A pairs library designed to make responding to RFPs quicker and easier.
Visit Qorus at table 13 in the exhibition hall to find out how you can take the pain out of bid and proposal management and make your firm more productive and profitable.
More about the ITLA SharePoint Symposium 2015: http://sharepoint.iltanet.org/
More about Qorus Breeze Proposals: http://www.qorusdocs.com/proposal-generator