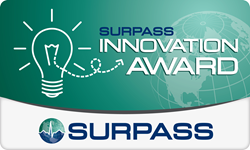 "We are pleased to contribute to the Rosenman Institute's mission and awards through our Surpass Innovation Award Program."
OSCEOLA, WI and MOUNTAIN VIEW, CA (PRWEB) May 26, 2015
Surpass, Inc. ("Surpass"), a recognized leader in preclinical research services for the medical device industry, announced it is sponsoring the Rosenman Institute's Innovation Awards this year. The Rosenman Institute, an initiative of California life science accelerator QB3, speeds the development of medical devices by pairing early-stage medical device entrepreneurs with experienced medical device professionals and valuable resources. The goal of the Rosenman Innovation Awards is to propel those promising ideas towards commercialization.
"We at Surpass understand the challenges many early-stage entrepreneurs face to secure the necessary funding and support needed to advance their novel medical device concepts through the initial stage of the innovation cycle," said Dr. Tim Pelura, President and CEO of Surpass. "For this reason we feel compelled to support industry-critical programs like QB3 and the Rosenman Institute, to ensure the health of the medical innovation continuum going forward. We are pleased to contribute to the Rosenman Institute's mission and awards through our Surpass Innovation Award Program. By working together we can help ensure the success of both the local and greater California innovation community and the future of healthcare innovation." This is the fourth in a series of recently established Surpass Innovation Awards, with centers of excellence in medical innovation, and the first one open to entrepreneurs outside the academic setting.
As part of the 2015 Rosenman Institute Innovation Awards, Surpass will grant in-kind services to the first and second place awardees to provide their initial preclinical proof-of-concept data. The Surpass team will support the awardees through the preclinical study process, from beginning to end, and provide assistance during due diligence with investors to better the chances of moving life-saving and life-improving technologies forward to the patients who need them.
"We are grateful to Surpass for supporting our program and this award. Collaborations like this, between early-stage entrepreneurs and companies providing services along the product development cycle, are imperative to maintain the health of our industry and the continued flow of high-quality medical devices for patients," said Christine Winoto, Assistant Director of QB3 and founder of the Rosenman Institute.
The Rosenman Institute is an initiative of QB3, a University of California life science research institute and startup accelerator. The Rosenman Institute combines QB3's resources for entrepreneurs with mentorship from the Rosenman Fellows, a group of medical device specialists with expertise in fields including engineering, IP law, and regulatory affairs. The mission of the Rosenman Institute is to drive medical device innovation and education and improve patient care by supporting promising entrepreneurs to develop technologies from concept to commercialization.
About the Rosenman Innovation Award
All residents of California are eligible to take part in the open innovation competition including medical students, clinicians, designers, and engineers who are interested in medical device commercialization and startup companies. To apply, please visit the Rosenman Institute website. Applications are due by 5:00pm June 3, 2015. Entries will be evaluated by a panel of jurors representing various disciplines within the medical device industry.
Winners will receive:

First prize: in-kind support from Surpass and an established medical technology business
Second prize: in-kind support from Surpass
Support during the due diligence process with potential investors
Mentorship from Rosenman Fellows and legal/incorporation services
Increased visibility of their companies and their ideas among medtech professionals & investors
Winner will be announced at the 2nd annual Rosenman Institute Symposium, to be held on June 24, 2015 at UCSF Mission Bay.
About Surpass
At Surpass, our innovative approach to preclinical research goes beyond the ordinary. We're changing the rules for a better way to get from concept to reality.
Surpass is a trusted, preclinical contract research organization with extensive experience conducting medical device, pharmaceutical, biotech and combination product studies with specialized expertise in surgical and interventional procedures. Our preclinical testing services in large in vivo models and human cadavers span the product development cycle (proof-of-concept, early feasibility, iterative prototype evaluations, human factors assessments, validation, pharmacokinetics (PK), GLP/safety studies, and physician/clinical bio-skills training).
At Surpass, we bring more to our client partners. Our award-winning Research Team provides insightful solutions and assistance every step of the way, offering expert advice and the level of comprehensive support needed to make your study successful – the first time.
Surpass' breadth of case experience in preclinical studies includes feasibility and safety assessments of ablation systems, wound healing therapies, vascular grafts, orthopedic prostheses, stents, closure devices, valves, infusion pumps, drug coated balloons, neurostimulators, renal denervation systems, dermal patches, imaging systems, cardiac assist devices, and much more. Whether you are a startup or an established player, Surpass is uniquely qualified to make your study successful. Contact Surpass today at (715) 294-4371 (Greater Twin Cities) or (650) 938-3675 (Silicon Valley).
Visit http://www.surpassinc.com for more information. Connect with Surpass, Inc. on LinkedIn or YouTube