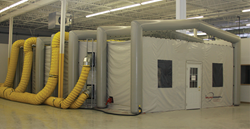 xpanding to our mEEC™ offerings to our US clinics will allow us to complete more multi-centre allergy trials
Toronto, Ontario (PRWEB) May 26, 2015
Inflamax Research, Inc. announces today that their newly acquired clinical research site in Neptune, New Jersey, will open the first and only Environmental Exposure Chamber (EEC) in the Northeast US, where they will install their state-of-the-art mobile Environmental Exposure Chamber (mEEC™) system. The mEEC™ system provides a controlled, naturalistic level of allergen for clinical studies in patients with allergic diseases. Using mEECs™ reduces data variability, inconsistency, and unpredictability that can lead to failure of traditional field allergy studies. The EEC site in Neptune is close to a large number of pharmaceutical and biotechnology clients. As well, the site is located within easy reach of a population of over 20 million people from metropolitan New York to Washington DC. The Northeastern US is an area well known for a number of allergens including tree, grass, and ragweed pollen as well as perennial allergens such as dust mite and cat.
"Expanding our mEEC™ offerings to our US clinics will allow us to complete more multi-centre allergy trials." says Dr. Anne Marie Salapatek, President and Chief Science Officer of Inflamax Research. "We look forward to bringing the mEEC™ technology to more locations worldwide where it can speed up conventional allergy trials to develop immunotherapy vaccines, symptomatic relief medications, and other treatments. The possibilities really are endless, in terms of the allergens and treatments that we can test. Inflamax has several studies planned at the Neptune mEEC™ site."
The EEC system has been shown to improve and accelerate data acquisition in clinical trials for anti-allergy medications, such as antihistamines and immunotherapies. Studies can be performed out-of-season using the EEC, thereby reducing the impact of conflicting allergies and the trials can even use a hybrid field-EEC model to confirm efficacy in both a natural season and provocative test. Due to their portability, these next generation EECs can be transported anywhere in the world, which will standardize multi-centre trials and also allow clinical trials to draw from larger, more diverse populations.
Inflamax Research is a full-service, global CRO specializing in allergy and respiratory diseases, led by world-known, key-opinion leaders. Inflamax has a strong academic background and publishes extensively in peer-reviewed journals. Inflamax is experienced in the conduct of large multi-centre studies from concept to protocol writing, site management, data management, and medical writing. Inflamax's scientists and clinicians are well known to regulatory authorities and regularly participate in an advisory role.