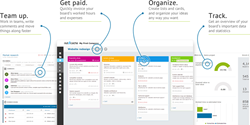 we are now really proud to provide businesses from all over the world with a unique all-in-one solution
Laval, Canada (PRWEB) May 26, 2015
Nutcache, a simple invoicing and time tracking online application, has just rolled out its new release with a collaborative turn.
Designed to help businesses and teams of all sizes work smarter, this new release will allow users to easily team up, organize, track, and get paid. "After reaching the 100k users landmark recently, we are now really proud to provide businesses from all over the world with a unique all-in-one solution, combining invoicing and expense management with time tracking, project management, and a real-time workspace for collaboration," says Sebastien Boyer, Product Manager at Nutcache.
Nutcache's new release should appeal to organizations striving to better plan and organize their team's work. "Actually, Nutcache's new collaborative turn came from our own needs for putting tasks and conversations together, sharing documents, staying organized and working productively, and we are truly convinced that our new orientation will help thousands of teams perform at their best," affirms Sebastien Boyer.
Simple, yet flexible tool for various business environments
Simplicity, ease-of-use, and flexibility have always driven Nutcache's development plans from day one. Therefore, teams working under the Kanban Agile work method, or simple organizations trying to improve their project management skills, will see their efficiency taken to the next level and will get things done faster by sharing tasks with teammates, keeping track of their progress, and communicating with clients for feedback, all in real-time.
Basically, Nutcache's collaborative feature is made up of boards, lists and cards that represent a workflow. Each card can be filled with a variety of information, such as checklists, worked hours, expenses, or attached documents. And since cards are linked with the time tracking and expenses modules, billing clients for work done becomes a breeze.
Guest users, such as clients, or team members, can be invited to collaborate and comment on different tasks, which can be prioritized and moved from one list to another as work progresses from start to finish. Of course, lists can also be used as containers for ideas, tasks or others activities not necessarily part of a workflow. In other words, Nutcache's great flexibility makes it the ideal project management tool for any business!
From a simple invoicing and time tracking app, Nutcache is now truly shaking the collaborative industry with a unique collaborative project management solution with time tracking, invoicing and expenses that helps businesses team up, organize, track, and get paid.
Know more about Nutcache at http://www.nutcache.com.
About Nutcache
Nutcache is an online application developed by Dynacom Technologies, a Canadian company with over 25 years of experience and a proven track record in developing invoicing and accounting software programs that appeal to thousands of users around the world. Nutcache's goal is to make business management easier for freelancers, small businesses and to team of all size.