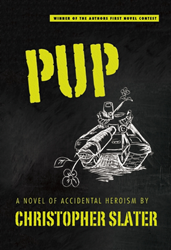 What happens when a hero never sees himself as someone unique?
Stamford, Connecticut (PRWEB) May 26, 2015
The Story Plant is set to release the debut novel by Christopher Slater, a middle school social studies teacher born and raised in middle Tennessee. Pup, the winner of the AuthorsFirst novel writing contest, hits shelves on June 16, 2015.
"I've always enjoyed writing and having my stories read," said Slater, who teaches eighth grade social studies at West Wilson Middle School in Mt. Juliet, Tennessee, and while he's always been eager to reach a wider audience, he never thought he'd get published. Now, two weeks out from the release of his first novel, Slater is still not certain that "it will ever feel real to me."
Garnering early and very favorable reviews, Pup, a novel of accidental heroism, follows the story of a young man with no taste for combat as he's thrust into the very center of a war he barely comprehends. Despite being socially awkward, Pup inadvertently becomes the key to the nation's safety during an unexpected war.
Slater found inspiration from diverse sources. "As a World War II and Vietnam War living historian," he said, "I have the privilege of meeting many veterans that are true-life heroes. As a teacher, I have the privilege of meeting many students that have potential that they don't seem to comprehend themselves. I realized that these two groups of people were not mutually exclusive." As he began fleshing out the character of Pup, another question was brought forth, one that is central to the story: "What happens when a hero never sees himself as someone unique?"
These musings culminated in the manuscript that would win him first place in the inaugural AuthorsFirst Novel Writing Contest. AuthorsFirst, an online writing community created by The Story Plant, launched the contest in an effort to support and foster new talent.
"We received nearly a thousand entries," said Lou Aronica, President and Publisher of both Authors First and The Story Plant, "and the range was wide and impressive. Once we narrowed down the field, the selection process became difficult because there were so many good choices. However Pup truly rose above the pack."
When asked, this writer turned unexpected author said the most surprising part of the publishing process was having "been allowed plenty of input!" and his advice to up-and-coming writers is simple, "keep writing." Slater, who vlogs regularly about his process, went on to say, "Every time that you write something, you are experimenting. With each experiment, you begin to find parts of a formula that works for your approach and style. No matter what level you reach with your writing, every improvement is something worth celebrating."
Pup will be released on June 16 and is available for pre-order everywhere books are sold. You can visit Christopher Slater at his author website,http://www.christopherslaterauthor.com/
About The Story Plant: The Story Plant was founded in 2008 by two long-time industry veterans. In a combination rare in the book publishing world, its entire management team is made up of writers with a combined sixty years of book publishing experience, much of it at the top of major houses.
About AuthorsFirst: In 2013 The Story Plant launched the website AuthorsFirst to provide a community for writers, created by writers who understand the complexities of the writing life. The first AuthorsFirst Novel Competition was won by Christopher Slater for his novel Pup. Christopher won a $5,000 prize, a book contract with The Story Plant.