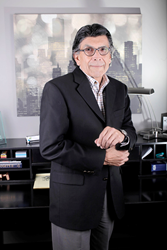 Tyler, Texas (PRWEB) May 26, 2015
John David Carrasco, Executive Director/Founder for the East Texas Hispanic Chamber of E-Commerce announced today the addition of Price Arredondo as an Advisory Board Member. "I have had a great working relationship with Mr. Arredondo for the last several years since he moved to Tyler, TX and I am honored to have him join our efforts. Our strategy for East Texas and the rest of the state will greatly benefit from his knowledge as we begin implementing our educational programs and interactive sessions for our Hispanic business community."
Price Arredondo brings a deep understanding and calling to assist our Hispanic businesses. Born in West Texas, (Sanderson, TX). He has proudly served our country in the US Army with one tour in Vietnam. His education includes an A.A. From San Antonio College, B.A. from Texas State University and M.PA. from Southern Methodist University.
His experience includes Council of Governments in West Texas as a Regional Planner. Mr. Arredondo served as Small Business Director & Area Councils for the Austin Chamber of Commerce, Director of Small Business with the Governor Clements administration, started a Telecom infrastructure company working with wireless carriers in the U.S. and Latin America. Recently Price served as Director of the Hispanic Business Alliance for the Tyler Chamber of Commerce and now, through his consulting company, is a strategist on multicultural branding and marketing and assists small businesses with organizational and management issues.
"We are truly thankful and honored for having Mr. Arredondo as a new member of the Advisory Board of the Hispanic Chamber of E-Commerce. His valuable contributions will help to strengthen the agenda of the Hispanic Chamber of E-Commerce in East Texas and at the national level. We look forward to working with Mr. Arredondo," said Tayde Aburto, Founder of the Hispanic Chamber of E-Commerce.
"I look forward to being a part of the Hispanic Chamber of E-Commerce Advisory Board to expand membership in East Texas and throughout the state as programs are expanded to a new level of interactive collaboration," Price Arredondo stated.
For more information about the East Texas Hispanic Chamber of E-Commerce please contact John David Carrasco at (903) 374-1910 or via e-mail at carrasco(at)hiscec(dot)com.