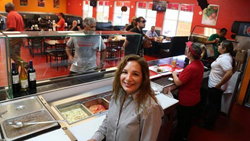 Davie, Florida (PRWEB) May 27, 2015
On August 14th, the Hispanic Women of Distinction Charity Luncheon is set to take place at the Signature Grand in Davie, Florida, to recognize and honor 12 Latina women in the South Florida community with The Latina Pioneer Award for 2015. This is a much-anticipated event that is expected to have a significant turnout, including some of South Florida's notable philanthropists, heads of business, elected officials and luminaries.
The Hispanic Women of Distinction Charity Luncheon is being presented by Bank of America, in a united effort with Latina Style Magazine, and it is also co-sponsored by Baptist Health South Florida, Latin Business Today, Univision Networks, and the Sylvester Cancer Center. The 12 Latina professionals will be honored for their dedicated efforts and contributions to the South Florida community, their work to fortify the social fabric of our country, and for serving as trail blazers within the leadership pipeline, making room for the progressive growth of diversity in our country.
Claudia Bartra, co-founder and CFO of La Granja Restaurants is among the 12 distinctive honorees. Since La Granja's debut in the United States in 1995, Claudia Bartra has worked diligently to become part of the South Florida community, and has kept it close to her heart. Through La Granja, she continues to give back to the community, as well as promote growth and progress within the Latin population here.
From honoring war veterans at La Granja restaurant locations on Veteran's Day, to bestowing her generosity on South Florida's Hispanic and Latin student population with academic scholarships to attend Palm Beach Community College, the effort put forth by Claudia Bartra and La Granja Restaurants continues to extend its reach to many in the South Florida community. Ms. Bartra's contributions come from a place of gratitude, as well as intentions of providing hope and encouragement to those of Hispanic and Latin descent that would normally would not be able to afford to continue their education.
Much Congratulations to Marielena A. Villamil, who will receive the Latina Pioneer of the Year 2015!
Marielena A. Villamil is President, COO of The Washington Economics Group.
Peruvian Food: From modest beginnings of La Granja Restaurants, comes success and community awareness.
In 1993, when Claudia Bartra's father and family members founded La Granja in Aruba, they never imagined the overwhelming success that their vision would bring, or the impact it would have on the community. This once modest eatery, serving top quality, authentic Peruvian food, has blossomed in to a robust restaurant empire with more than 40 locations in Florida today. Ms. Bartra and her family credit La Granja's great success to their hard work, as well as being afforded the chance to prosper in the United States of America, which they truly believe is the land of opportunity.
The luncheon will feature a runway for all 12 honorees to walk down, while guests get to learn about all of the ladies' success and community activism. These successful Latina businesswomen share a major trait that serves as the cornerstone of each one's success. Each honoree has been greatly influenced in her American entrepreneurship by her own values and traditions. Each of the women has been inspired to use those assets to help build a brand and change the face of American culture.
These inspiring Latina women were chosen to be honored out of 59 nominations received for the 2015 award. These nominations included other noteworthy South Florida businesswomen who also make their own voices heard within the community through hard work and efforts to make it better.
A fashion show is also planned that will feature fashion students from the Art Institute of Fort Lauderdale, as well as some notable television fashion celebrities. The luncheon will also raise money for Light of the World Clinic, a free volunteer medical facility. The luncheon has more than 30 sponsors, media partners, and corporate partners who are proud to be a part of this exceptional bicultural and bilingual dynamic that has been brought forth by this event.
For more information about La Granja Restaurants, or to find a La Granja restaurant nearest you, visit: http://www.lagranjarestaurants.com/locations.php.