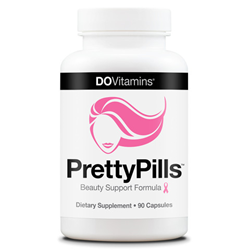 Making hair grow strong and healthy...is one of the things we *do* best.
Las Vegas, NV (PRWEB) May 26, 2015
Do Vitamins® has launched a new supplement designed to give women a beauty boost, from the inside out. Now shipping, PrettyPills® is a dietary supplement formulated to promote healthy hair growth, glowing skin, and strong nails.
PrettyPills® combines the daily nutritional support of a multivitamin with the benefits of maintaining healthy hair, skin, and nails. Thanks to the array of vitamins and minerals in PrettyPills®, women can now get their multivitamin and nourish their hair, skin, and nails, in one, easy supplement.
Chris Johnson, Director of Sales, said, "Do Vitamins created the world's first beard vitamin with VitaBeard, but PrettyPills® has been in the works since even before that. Making hair grow strong and healthy, for men or women, is one of the things we *do* best."
Made in the United States, PrettyPills® is Non-GMO, Certified Vegan, and free of soy, wheat, gluten, and other allergens. Do Vitamins is an industry leader in clean supplementation, and bring the same purity perfectionism to PrettyPills®. All Do Vitamins products, including PrettyPills®, are part of a one-for-one donation matching program; Do Vitamins has partnered with Vitamin Angels so that for every bottle of every product they sell, a child will receive vitamins for one year. In addition, for PrettyPills®, Do Vitamins has pledged to donate $1 per bottle sold to breast cancer research.
PrettyPills® retails at $29.95 for 90 capsules and is available now exclusively from http://dovitamins.com/prettypills – US shipping is always free.