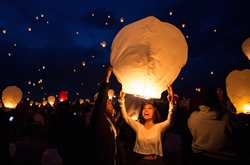 We are excited for a warmer and drier Lantern Fest this summer
WICHITA, KS (PRWEB) May 27, 2015
May 27, 2015 - Thunderstorms on Saturday night forced organizers of the much-anticipated Lantern Fest to postpone the event until July 11. Though Chinese Lanterns can float in light rain, excessive wind and thunderstorms not only make for a cold and damp evening, but also prevent lantern flight.
"Safety is our number one priority. When we saw the weather forecast we were disappointed, but knew the event would have to be postponed," said event organizer Spencer Humiston. "But we are excited for a warmer and drier Lantern Fest this summer."
On July 11, The Lantern Fest will come to El Dorado State Park with live music, s'mores, giveaways, face painters and more. Organizers of this once sold-out event have agreed to release extra tickets so that even more families and friends can join together to experience the magnificent spectacle.
"People come from all over to celebrate a milestone, remember a loved one, or just to snap some pictures for Instagram and marvel at this unforgettable scene," said Co-founder TR Gourley. "This one-of-a-kind experience will most likely become a family tradition for years to come."
The Lantern Fest donates a portion of the proceeds from every event to local charities. This year, they are excited to be working with both The American Cancer Society and Numana.
Lantern Passes can be purchased online and are required for admission to the event. Each pass come with a lantern, marker, s'mores kit and lighter.
All are welcome to join. Visit http://www.thelanternfest.com for more information about The Lantern Fest. Dates and locations are updated as permits are secured. Checkout what fans have to say on The Lantern Fest's Facebook page: http://www.facebook.com/thelanternfest
About The Lantern Fest
Historically Chinese Lanterns were used to symbolize good fortune, request favorable weather, or to celebrate the life of a loved one. But in 2015, The Lantern Fest transformed this ancient tradition into a family-friendly festival. There is food, music, s'mores, children's entertainment and, when the sun goes down, lanterns will light the sky in one spectacular release.