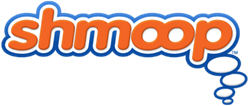 Shmoop is where student engagement and rigor come together
Mountain View, California (PRWEB) May 26, 2015
The people at Shmoop University basically bleed gold. That's why they've gone out of their way to give California users tailor-made resources, including Smarter Balanced California, a CAHSEE Teacher Guide, and now, multiple "a-g" certified courses.
Shmoop (http://www.shmoop.com), a digital publishing company aiming to make learning fun and relevant, has been granted "a-g" certification for many of its Common Core-aligned courses, including 9th Grade ELA: Introduction to Literature, 11th Grade ELA: American Literature, 12th Grade ELA: British Literature, Algebra I, Geometry, and Algebra II, with more certifications and world domination to follow.
In order to receive certification, courses must meet rigorous standards for content and structure; according to the University of California A-G guide, approved courses "are to be academically challenging, involving substantial reading, writing, problems and laboratory work (as appropriate), and show serious attention to analytical thinking, factual content and developing students' oral and listening skills." By meeting these criteria—and icing the cake with pop culture and humor—Shmoop Online Courses will now be honored as part of the requirements for admission into the University of California system.
"Shmoop is where student engagement and rigor come together," says Ellen Siminoff, president and CEO of Shmoop. "The a-g certifications cement Shmoop's place as a leading provider of quality online high school curriculum."
Shmoop believes that education should be accessible both academically and financially, and they offer discounts for schools and districts (contact sales[at]shmoop[dot]com for details).
About Shmoop
Shmoop is a digital curriculum and test prep company that makes fun, rigorous learning and teaching resources. Shmoop content is written by experts and teachers, who collaborate to create high-quality and engaging materials for teachers and students. Shmoop Courses, Test Prep, Teaching Guides, and Learning Guides balance a teen-friendly, approachable style with academically rigorous concepts. Shmoop sees 10 million unique visitors a month on its site and offers more than 7,000 titles across the Web, iPhone, Android devices, iPad, Kindle, Nook, and Sony Reader. The company has been honored twice by the Webby Awards, named "Best in Tech" twice by Scholastic Administrator, and awarded Annual Education Software Review Awards (EDDIES) three years in a row. Launched in 2008, Shmoop is headquartered in a labradoodle-patrolled office in Mountain View, California.