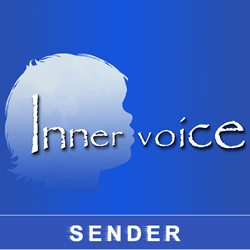 Most importantly, remote prompting reduces confusing verbal explanations that interfere with learning complex communication-related concepts," said Matthew Guggemos, M.S. CCC-SLP
San Francisco, CA (PRWEB) May 27, 2015
With InnerVoice Communication App you will be immersed into a total communication environment where the message is not only heard but seen -- by a photograph of a face, a toy, drawing, or virtually any motivating image. This award-winning and affordable app takes full advantage of all the iPad has to offer.
Now, using InnerVoice Sender app in conjunction with InnerVoice Communication App, those same messages can be sent to a learner remotely for no additional cost.
InnerVoice Sender allows a text messages to be sent from one device onto an iPad or iPhone loaded with InnerVoice. After receiving the text, the InnerVoice avatar will say the message — hello, yes, no, thank you — as if it were spontaneously talking on its own!
InnerVoice Sender, is a unique tool for teaching, interacting, or just playing:

Send a response to a child's iPad, right after asking a question so that she can see herself say the answer — as if her reflection were talking to her.
Show a child when and how to say, "thank you" in real time — right when a gift is received.
Have a superhero ask a child to eat his broccoli…even though the message has been sent from across the table!
Prompting is an evidence-based practice, used to encourage a correct response while reducing the possibility of an error. Prompting has been effectively used with children on the Autism Spectrum in the areas of language, communication, and academics. Current prompting levels include verbal, visual, physical, gestural, model, and natural. Today, due to the advanced capabilities of mobile devices, a new level of prompting is possible: Remote Prompting (RP).
InnerVoice is the first communication app to incorporate remote prompting (RP) as a technique to support communication and the acquisition of skills for individuals on the autism spectrum.
This technique allows learners to receive a prompt on their mobile device that guides them to the correct response. Using InnerVoice Sender, prompts are sent via Wi-Fi or Bluetooth from the educator's device to the user's InnerVoice AAC app, the result of which reduces errors, confusion, and frustration.
Using speech to describe these ambiguous language concepts can quickly turn into a confusing, and sometimes frustrating, sea of un-clarity: "When I'm pointing at you, you say "me," but when you point at me, you say, 'you.'" In short, attempting to teach language concepts such as pronouns to a person with echolalia quickly becomes almost an impossible situation that devolves into an almost endless loop of repetition...and frustration.
InnerVoice solves this problem by providing an alternative imitation model, which the person with autism can mimic by looking at the screen of his mobile device. The mobile device simply displays the socially relevant response (auditory and/or graphic) -- avoiding unnecessary and confusing verbal descriptions.
Verbal descriptions can be extremely unclear, for example, when teaching first- and second-person pronouns such as "me," "my," "you," and "your." The more one explains who "you" and "me" are, the more unclear the definitions become for beginning communicators -- especially those with autism who exhibit echolalia.
*Echolalia - ech-o-la-li-a: The repetition of words, without understanding, by an individual learning to talk. Researchers have found that up to 85% of people with autism have echolalia.
A word about Echolalia --
Echolalia does, in fact, serve an important role in speech development. As children learn to speak, they imitate what they have heard others say, often their parents and relatives, using echolalia. By imitating others' speech, children learn motor plans for speech sounds that occur in a language. Motor plans tell the muscles and respiratory system how to coordinate together in order to make speech sounds. Conversational speech involves extremely complicated movements, which require amazingly complex motor plans: so children must constantly imitate and practice speech in order to speak fluently.
Yet echolalia may be a way for people to socially engage in a back-and-forth conversation. Many children may know to speak when there is a pause in the conversation or greeting; however, they may be too young to cognitively access and physically produce the specific words for a reciprocal response. To participate in a conversation, some children will repeat what the speaker has said, in order to process the previous sentence or produce a speech-based response. This use of echolalia demonstrates some knowledge of social turn-taking, despite a difficulty producing complex reciprocal responses.
Developmental echolalia can help children learn languages and participate in conversations, but in the community, involuntary echolalic responses can create socially confusing situations, which make a barrier to effective communication. An involuntary echolalic communicator struggles to engage in reciprocal conversational communication: a two-way process during which a listener and speaker alternate roles when communicating. Reciprocal communication is a crucial social skill, as it used daily during greetings and farewells.
**Therefore, it is important to remember that we do not want to stop echolalia, rather shape it into functional speech and language
InnerVoice Sender is the only app on the market that helps shape echolalia into functional responses, using video self-modeling. InnerVoice is product of a partnership between iTherapy and MotionPortrait. iTherapy, which is owned and run by speech-language pathologists, provided the clinical trials and ensured that evidence-based, best practices were adhered to in developing InnerVoice. MotionPortrait, a cutting-edge entertainment technology company, provided the photo-based 3D avatars and synchronized mouth movements.