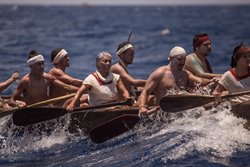 "We are so glad to announce that this year we have canoeists from 14 different countries," said Quintana. "This tradition is getting stronger each year."
XCARET, RIVIERA MAYA, QUINTANA ROO (PRWEB) May 25, 2015
Three hundred and seventy canoeists sweat under the sun, muscles bulging, as they make their five hour journey to neighboring island Cozumel from Xcaret. They have trained for six months in the ocean, learning how to row in sync in wooden canoes. Five hundred years ago, their ancestors made the same trek. Everyone, whether canoeist or guest at Xcaret, feels a cultural, spiritual and emotional bond during this event.
The ancient Mayan people rowed from Xcaret to Cozumel to bring gifts to the goddess Ixchel and receive what they hoped was good news from her oracle. Ixchel was the goddess of the moon, regenerative cycles, tides, fertility, birth, medicine, gestation and the inventor of painting and weaving. Now, modern canoeists take the journey to strengthen cultural identity and tradition.
Experiencias Xcaret, a sustainable ecotourism destination outside Cancún, Mexico, has revived Mayan heritage through the Sacred Mayan Journey, a modern reenactment of the ancient Mayan ritual. Canoeists of all ages gathered on Friday and Saturday for the ninth Sacred Mayan Journey to celebrate Mayan and Mexican heritage as they rowed in historic costumes across the 12 mile channel in rough waters.
Visionary Miguel Quintana Pali, co-owner and founder of Experiencias Xcaret, created the event as keystone of his effort to restore Mayan culture and tradition.
"We are so glad to announce that this year we have canoeists from 14 different countries," said Quintana. "This tradition is getting stronger each year."
Nine years ago, 10 boats of five people took the first journey to Cozumel. This year, 37 boats of 10 people participated in the event.
One of those 370 canoeists was 64-year-old Maria Beatrix del Perpetuo Socorro Solis Ramirez. She was the oldest canoeist of the group.
"Last year, when I saw the canoeists depart from Xcaret, I felt this emotion and said, 'I have to do this,'" said Ramirez.
The canoeists typically bring a small gift for Ixchel in tradition of the ancient Mayans doing this to receive her blessing. Ramirez offered her strength and effort as a canoeist in hope that Ixchel would grant health to her sister, who has been diagnosed with cancer, and her young grandnephew, who is in a coma.
"I offered the effort with my life because my sister has cancer and my grandnephew is in a coma. He's 4 years old," said Ramirez.
Ramirez was concerned at first that others in her boat wouldn't accept her because of her age, but found that her fellow canoeists trusted and supported her throughout the entire journey. The canoeists developed a family like bond whose outward expressions of teamwork and love were apparent to spectators.
"I feel very happy and grateful to God because he put angels on my road to help me out," said Ramirez.
ABOUT:
Experiencias Xcaret is a cultural and nature theme park located outside of Cancún, Mexico, with more than 40 attractions available for visitors of all ages. Visitors can explore the natural landscape, enjoy Mexican culture and discover the diversity of animal species inhabiting the area. Xcaret hosts the annual Sacred Mayan Journey in May to celebrate Mexican tradition and culture.
For more information, please contact Iliana Rodriguez at irodriguez@experienciasxcaret.com.mx or visit http://www.xcaret.com.
To download high resolution photos please visit: