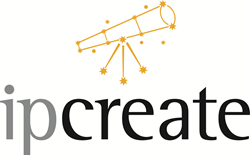 Bonita Springs, Florida (PRWEB) May 26, 2015
ipCreateTM Chairman Marshall Phelps will host Bloomberg BNA's first-ever series of educational events on how business leaders can develop more successful innovation strategies for their companies.
The inaugural event in the new "Innovation Excellence" series will take place on June 11th, from 6-9 pm, at Bloomberg's New York City headquarters and will recorded for viewing on Bloomberg BNA. Joining host Marshall Phelps will be guest speakers Brian Hinman, Chief Intellectual Property Officer at Netherlands-based health and well being company Royal Philips, and David Kappos, former U.S. Under Secretary of Commerce and Director of the Patent Office from 2009 to 2013.
Bloomberg BNA, a wholly owned subsidiary of Bloomberg, is a leading source of legal, tax, regulatory, and business information for professionals. ipCreate is the world's leading "Invention on Demand™ company and works with global technology leaders to create foundational patented inventions at the chokepoints of looming market change.
Mr. Phelps, often called the "father" of modern corporate patent strategy, led IBM's transformation into the world-leader in patented inventions in the 1990s, at the same time transforming its anemic patent licensing program into a $2 billion-a-year revenue stream for the company. He repeated that success in developing patented innovations at Microsoft a decade later.
More information and registration information can be found here.
http://www.bna.com/InnovationExcellence/.
Media:
Cheryl Milone
Chief Marketing Officer and Patent Strategy Counsel
888-853-2212
cmilone(at)ipcreateinc(dot)com
About ipCreate
ipCreate is the world's premiere Invention On DemandR company, focused solely on enabling innovation through the creation of high-quality, high-value patentable inventions. We partner with global companies to complement their internal R&D efforts, helping them to respond better and faster to disruptive technology and market changes. ipCreate employs its proprietary tools to identify promising innovation areas or "white spaces" of importance to our clients and then utilizes its unique forward-invent/patenting capabilities to generate new IP to quality, speed and market relevance in these areas. The ipCreate vision derives from two industry pioneers, IBM and Microsoft's former head of worldwide IP and IBM's head of the highly successful "IBM Patent Factory." The company has added other industry veterans to the leadership team to rapidly scale the business. At our core is patent quality, and the acquisition of Article One Partners in 2014 introduced a proven and effective crowd-based approach to prior art discovery forward into the invention process itself to ensure the highest levels of quality control.