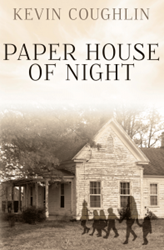 As Sean grows from late childhood into his teens, the seemingly never-ending "lessons" of his chaotic family life begin to form, and sometimes force, his world view.
SANTA ROSA, Calif. –
(PRWEB) May 27, 2015 -- Thomas and Marge Sullivan move their family to a sleepy Southern California barrio in the 1960s but are isolated in a town beset by a rising Mexican-American gang culture and by their own inherited values. As described in this new book, Tom's alcoholism and Marge's egotism further propel them into misery as family tragedies take their toll.
Unable to face her moral responsibility to defy the mandates of the church, Marge mounts the photos of her dead children on the walls and narcissistically embraces a martyr complex while her husband abandons the family to hide in the solidarity of a Christian action committee. Left to deal on their own with the horrors around them, each sibling reacts differently to the ripples of devastation that overtake the family. "Paper House of Night," told from the perspective of middle son Sean, who has his own demons to face, delves ever deeper into the pain and hurt of a broken family.
When Sean's only protector in the family dies during risky heart surgery, Sean is left to navigate the criminal habits and aberrant behavior of his older brothers. As their parents continue in their religious fantasia, the center of the family collapses. Mike, the oldest, turns to dealing and using drugs. His brother, Jim, an undiagnosed victim of fetal alcohol syndrome, begins to challenge sexual taboos, leaving Sean saddled with enormous secrets and profound revelations about love, family and religious integrity. When Frank, the youngest dies, Sean rejects his parents' hope of heaven through sacrifice. A final confrontation between Jim, now a high school dropout and PCP user, convinces Sean that his only chance of physical and spiritual survival lies in leaving behind everything he has ever known.
Author Kevin Coughlin lives in Santa Rosa, Calif.
---------------------------
Paper House of Night
Kevin Coughlin
Dog Ear Publishing
ISBN: 978-1-4575-3519-2 220 pages $15.95 US
Available at Ingram, Amazon.com, Barnes & Noble and fine bookstores everywhere.
About Dog Ear Publishing, LLC
Dog Ear Publishing offers completely customized self-publishing services for independent authors. We provide cost-effective, fast, and highly profitable services to publish and distribute independently published books. Our book publishing and distribution services reach worldwide. Dog Ear authors retain all rights and complete creative control throughout the entire self-publishing process. Self-publishing services are available globally at http://www.dogearpublishing.net and from our offices in Indianapolis.
Dog Ear Publishing – self-publishing that actually makes sense.