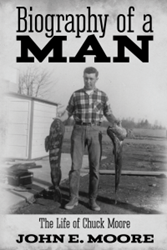 His travels took him from Mexico to the Arctic Circle, to the bottom of the Salish Sea to the Aleutian Islands.
MOUNT VERNON, Wash. –
(PRWEB) May 26, 2015 -- It takes an extraordinary man to lead an extraordinary life. That's what author John E. Moore captures when he describes the many careers and interests of his father, Chuck, a commercial fisherman, trucker, construction worker, logger and all-around hard-working man.
Born in Idaho in the midst of the Great Depression, Chuck grew up in the Skagit Valley of Washington. Chuck's father was drafted into the Army in 1945, enlisting at Forest Lewis. Chuck's mother left home to work at a factor in Denver, leaving Chuck's sisters with their grandmother in Bellingham. She rented out their house in Mount Vernon to strangers, and Chuck was left behind to live with them. Eventually the family was reunited, but Chuck was forever changed.
"Biography of a Man: The Life of Chuck Moore" describes a man who married at the young age of 19 and worked as a construction worker, logger and scuba diver, never staying in one job for long. He did surveying on pipelines across the country, as well as at the Navy base on Whidbey Island and the atom bomb test sites on Amchitka Island in Alaska. He started his own logging business and trucking company, and owned and operated commercial fishing boats in Washington and Alaska.
His travels took him from Mexico to the Arctic Circle, from the end of the Aleutian Islands to the bottom of the Salish Sea, doing some of the most dangerous jobs in the world that many times nearly cost him his life, including a logging incident in which he was saved thanks only to his tin hat and the exact placement of a runaway cable. He estimated that during his trucking career, he drove six million miles according to his logbooks and at least two million more on short hauls in 49 states, two provinces of Canada and destinations above the Arctic Circle.
His wife served as a full partner, helping him with everything. She eventually opened Swede's Net Repair and Sales in Anacortes, operating her business in addition to captaining her own crab boat. Later in life, Chuck joined his wife in becoming a cancer survivor, one of the greatest battles they faced together. Numerous black and white photos showcase the personality of the greater-than-life family man, provider and outdoorsman.
Author John E. Moore has written 10 books that serve as regional fishing and hiking guides for areas in the states of Washington, Idaho and Montana. The Mount Vernon, Wash., resident wrote this book because he thought his father's amazing story needed to be told.
--------------------------
For additional information, please visit http://www.MooreHighLakes.com
Biography of a Man: The Life of Chuck Moore
John E. Moore
Dog Ear Publishing
ISBN: 978-1-4575-3631-1 256 pages $19.95 US
Available at Ingram, Amazon.com, Barnes & Noble and fine bookstores everywhere.
About Dog Ear Publishing, LLC
Dog Ear Publishing offers completely customized self-publishing services for independent authors. We provide cost-effective, fast, and highly profitable services to publish and distribute independently published books. Our book publishing and distribution services reach worldwide. Dog Ear authors retain all rights and complete creative control throughout the entire self-publishing process. Self-publishing services are available globally at http://www.dogearpublishing.net and from our offices in Indianapolis.
Dog Ear Publishing – self-publishing that actually makes sense.