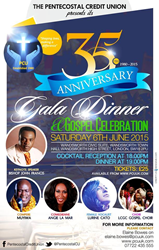 Top Gospel Artistes and Special Guests Line-Up to Celebrate The Pentecostal Credit Union's 35th Anniversary at a Special Show on 6th June
London (PRWEB UK) 27 May 2015
The Pentecostal Credit Union turns 35 years old this year.
The Credit Union formally came into being in 1980, originally operating from a tiny room in Balham. Today the Pentecostal Credit Union (PCU) is now one of the 10 largest Credit Unions in the UK, with over 1,500 members and members' funds running at over £7 million.
To celebrate its 35th Anniversary, the Pentecostal Credit Union will be holding a very special Gala dinner and gospel show on Saturday 6th June 2015 at Wandsworth Civic Suite.
Top gospel artistes and special guests are lined-up to celebrate this very momentous occasion.
Bishop John Francis:
Bishop John Francis is a man of distinction, someone with a clear sense of purpose and willing to stand in the face of adversity. He injects 'life' and restoration wherever he goes. He is the Founder and Senior Pastor of one of the largest and fastest growing churches in the UK - Ruach City Church.
Bishop John Francis is also the International Director of the Ruach Network of Churches which he overseas approximately 50+ churches in the UK & Overseas.
Inspirational and dedicated to the word of God, Bishop John Francis is always in great demand for preaching engagements, as well as imparting ministerial advice and spiritual wisdom.
Muyiwa:
Muyiwa is an internationally acclaimed, multi-award winning Singer, Songwriter and Broadcaster whose pioneering Gospel sounds has lead to him being dubbed one of the most prominent and respected figures on the British Gospel music scene.
Renowned for entertaining global audiences with his unique brand of worship music fusing soul, rock, pop and R'n'B, Muyiwa's captivating sounds incorporate musical influences from his youth including Afro-beat legend, Fela Kuti to American Gospel greats, the Winans.
And it is precisely this fusion which has won Muyiwa a hugely varied audience, attracting both Christians and non-believers alike – a feat achieved by very few Gospel artists.
Angie Le Mar:
Angie Le Mar is an Entrepreneur, Writer, Director, Comedienne and Talk show Host. Growing up as a young girl in a Christian family, it was always Angie's dream to make people laugh. She achieved this by becoming Britain's First Lady of Black Comedy, as well as through writing and producing successful stage plays and presenting a popular radio show on Choice FM.
Now a member of the New Testament Church of God, in Lee, South East London, Angie is also a funny and inspiring speaker with an enlightening story to share about her life, reflections on her many years working in the entertainment industry and how she has come full circle back to where it all began – the church.
Lurine Cato:
Lurine Cato is the UK's Queen of Gospel. She won the MOBO award for best gospel artiste in 2013 and the BEFFTA Award for the best gospel act. She mesmerises audiences with her five octave voice and her live performances are said to be life transforming.
Lurine is a prolific singer songwriter who has worked with Kirk Franklin, Donnie McClurkin, Destiny's Child, Adele, Kylie Minogue, Andrea Bocelli and Emeli Sande. Lurine is the gospel artiste of choice for prestigious events including performing last year's actors and celebrity studded event, 8th Movie, Video & Screen Awards at Birmingham's ICC in November 2014 which was featured on the BBC News.
London Community Gospel Choir:
Having recently celebrated their 30th year, the choir have established themselves as Europe's leading Gospel choir. 'The nation's favourite choir' are the first point of call for a variety of major recording artists including Madonna, Kylie, Sting, Paul McCartney, Brian May,Tina Turner and George Michael.
The choir regularly grace the stage of many of the UK's greatest stages such as Wembley Stadium (FA Cup Final), the Royal Albert Hall and a regular Sunday afternoon slot at Glastonbury Festival.
World record attempts, film premieres and theatre collaborations illustrate the choir's intention to break boundaries and display true versatility. An eclectic mix of races, ages and backgrounds make the choir a truly special blend of talent, voices and personalities.
The Pentecostal Credit Union celebratory evening on 6th June will commence with a Cocktail Reception followed by a lavish Caribbean buffet dinner prepared by Peter South from Pierre's Cuisine.
A very limited number of tickets are now on sale for both credit union members (and their guests) and the general public. Tickets cost just £25 to attend this momentous occasion and will be allocated on a first come, first served basis.
Don't miss this glittering night of joy, thanksgiving and praise for the Pentecostal Credit Union on Saturday 6th June at Wandsworth Civic Suite.
Tickets can be purchased from the Pentecostal Credit Union website http://www.pcuuk.com or by visiting the Eventbrite event page.
For further information please contact Elaine Bowes directly at elaine(dot)bowes(at)pcuuk(dot)com or telephone 07722 43555.
Ends
Eventbrite event page: https://www.eventbrite.co.uk/e/the-pentecostal-credit-union-35th-anniversary-celebration-tickets-16593187671
Notes for Editors:
1. The PCU was formed in 1980
2. The PCU has more than 1500 members
3. The PCU is one of the 10 largest Credit Unions in the UK
4. The PCU Loan Book is £4.7 million
5. The PCU has Assets of £10 million
6. The PCU is authorised by the Prudential Regulation Authority and regulated by the Financial Conduct Authority and the Prudential Regulation Authority
Press Release Contacts
Hugh Boatswain – (Interim) Chief Executive Officer
Tel: 020 8673 2542
Email: hugh(dot)boatswain(at)pcuuk(dot)com
Shane Bowes - General Manager
Tel: 020 8673 2542
Email: shane(dot)bowes(at)pcuuk(dot)com
Pentecostal Credit Union
http://www.pcuuk.com