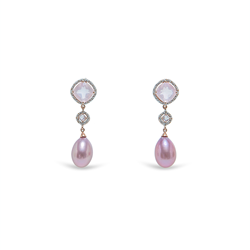 With rose gold color and tinted pink pearls as its main features, Nishi Pearls' vintage-inspired Blossom collection channels a romance and femininity conceived for the modern woman.
Montreal, Quebec (PRWEB) May 26, 2015
The collection's highlights include pink-tinted pearls, rose gold-plated sterling silver and a variety of sparkling gemstones. Nishi Pearls will be displaying Blossom at JCK from May 29th to June 1st at booth #B5301.
The Appeal of Rose Gold
The recent resurgence of rose gold in today's fashion jewelry reflects an appreciation for a trend that was popularized nearly a century ago. This unique variation of traditional yellow gold sprung into popularity in 19th century Russia where it was even called "Russian gold." In 1924, Cartier first introduced the famous Trinity band, which featured three intertwining bands of yellow, white and rose gold and marked the beginning of a limited but steady demand for jewelry crafted with this coppery alloy.
While rose gold signified a fresh and slightly daring alternative to traditional metals back then, its latest comeback reveals a nostalgia for vintage trends and designs possessing a feminine and romantic flair.
Blossom by Nishi Pearls'
Nishi Pearls' vintage-inspired Blossom collection channels a romance and femininity conceived for the modern woman. The collection features drop earrings and pendant-chains with intricate designs embellished with rose quartz, amethyst as well as white topaz to enhance its romantic appeal and showcases lustrous pink-tinted genuine cultured freshwater pearls. The pieces are fashioned in rose gold-plated sterling silver in response to its current revival in both fine and mainstream jewelry.
For the conception of Blossom, Nishi Pearls' product development team sought to include elements that would beautifully compliment the metal.
"When we were deliberating on design ideas for Blossom, we wanted the pieces to evoke the delicacy and femininity often channeled by fine jewelry while also staying true to contemporary tastes. Blossom's earrings and pendant designs are detailed, elaborate and dainty to bring out the romantic quality of both rose gold and pink pearls, two jewelry trends high in demand, while remaining youthful and fresh which is reflected in the presence of colored gemstones, another emerging trend," says Director of Product Development, Alique Akkelian
Possessing elements that gracefully complement one another, the Blossom collection will make every woman bloom and look effortlessly pretty in pink!
Blossom is now available for purchase on the Nishi Pearls online store.
Nishi Pearls™ is a brand that specializes in designing and creating a wide range of genuine cultured pearl jewelry that creates the perfect marriage between classic and contemporary. With offices located in Asia, Canada and the U.S.A, Nishi Pearls has been making its mark at some of the most prominent international jewelry fairs including the Jewelers International Showcase, the Orlando Duty Free Show of the Americas and the Jewelers' Circular Keystone's (JCK) annual trade show in Las Vegas, to name a few.
Nishi Pearls' dedication to quality is reflected in its partnerships with leading professionals, including their latest branding partnership with Swarovski as well as their inclusion in Air Canada's Inflight program. Their award-winning jewelry is inspired by the consumer of today and the fashion of tomorrow.
Visit them at: http://www.nishipearls.com/online/