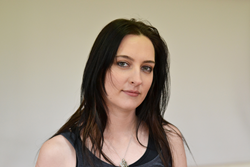 I'm delighted for C.J. and our other Award Winners," said the film's Producer, Tom Weston. "To win Awards in multiple categories shows the depth of talent we had working on this film, It truly was a collaborative effort.
Boston, Massachusetts (PRWEB) May 28, 2015
Director, C. J. Revan, has won a prestigious Award of Merit from the IndieFEST Film Awards. The "Women Filmakers" award was given for C. J. 's exciting film, CHRISTOPHER WREN BUILDS A CATHEDRAL, an adaptation of Tom Weston's short story.
In addition, the satirical short film collected an Award of Excellence for Costume, Award of Merit for Makeup, and Award of Recognition for Title/Credit design.
CHRISTOPHER WREN BUILDS A CATHEDRAL, set in 17th century London, is a production of tom weston media and Siege Productions, produced by Tom Weston, directed by C.J. Revan, and featured an ensemble cast, which included actors Obie Dean, Dick Douglass, Nathan Robinson, Tom Clear, Dave Thomas and Dave Taff Culver.
The IndieFEST Film Awards recognizes film, television, videography and new media professionals who demonstrate exceptional achievement in craft and creativity, and those who produce standout entertainment or contribute to profound social change. Entries are judged by highly qualified professionals in the film and television industry. Information about the IndieFEST and a list of recent winners can be found at http://www.theindiefest.com.
In winning an IndieFEST Film Award, (company or organization) joins the ranks of other high-profile winners of this internationally respected award including Liam Neeson as the narrator of Love Thy Nature, Julia Louis-Dreyfus and Tom Hall for Generosity of Eye, searing expose Davids and Goliath by Leon Lee and European heavyweight Roland Joffee for The Lovers starring Josh Hartnett and Bollywood star Bipasha Basu. Rick Prickett, who chairs The IndieFEST Film Awards, had this to say about the latest winners, "The IndieFEST is not an easy award to win. Entries are received from around the world from powerhouse companies to remarkable new talent. The IndieFEST helps set the standard for craft and creativity. The judges were pleased with the exceptional high quality of entries. The goal of The IndieFEST Film Awards is to help winners achieve the recognition they deserve."
ABOUT TOM WESTON MEDIA
Based in Boston, Tom Weston Media is the publishing house for the work of author and filmmaker, Tom Weston. Tom has won multiple awards and 5 star reviews for his work, both in literature and film.
ABOUT SIEGE PRODUCTIONS
Based in Worthing, England, Siege Productions is an entertainment production company that specializes in films, videos, and other creative projects. Its mission is to provide opportunity and experience to new talent who share their passion for movie making.
For more information about CHRISTOPHER WREN BUILDS A CATHEDRAL, visit the official film website at: http://www.tom-weston.com/christopher-wren