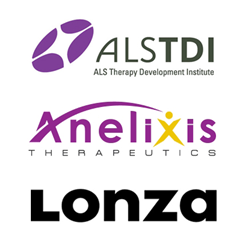 The Ice Bucket Challenge gave the Institute a boost in funding, which we were able to deploy quickly to advance promising programs like this one. Everyone who donated to our Institute made the development of this treatment possible -- Dr. Steve Perrin
Cambridge, MA (PRWEB) May 27, 2015
The ALS Therapy Development Institute announced today it is directing, via its wholly owned subsidiary, Anelixis Therapeutics, $1.5 million toward the development of a potential treatment for ALS that targets the innate immune system. The funding comes from the $4 million the ALS Therapy Development Institute received from the 2014 social media phenomenon known as the "ALS Ice Bucket Challenge." The entire sum of $4 million raised directly by the Institute through last year's Ice Bucket Challenge will be spent on ALS research.
"Inappropriate activation of the immune system is a prominent feature in autoimmune diseases and neurological diseases such as Multiple Sclerosis and ALS. Antibodies that block CD40L activation on T lymphocytes have demonstrated benefit in these diseases, and we are encouraged that it has worked so well in animal models of ALS," says Steve Perrin, Ph.D., CEO and CSO of the ALS Therapy Development Institute.
The anti-CD40L antibody targets a protein which has been implicated as a trigger in converting immune cells to an active state. Blocking the expression of this protein has been shown via rigorous preclinical experiments to slow disease progression and improve survival times of mSOD1 mice. Those results have been presented publicly and published in the peer-reviewed journal, Nature Genetics (Lincecum & Vieira, et al, 2010). Anelixis Therapeutics has contracted Lonza, a leading global biologics API manufacturer, to develop and manufacture clinical material of anti-CD40L for future phase I patient trials.
"The Ice Bucket Challenge gave the Institute a boost in funding, which we were able to deploy quickly to advance promising programs like this one. Everyone who donated to our Institute made the development of this treatment possible," adds Dr. Perrin.
About the ALS Therapy Development Institute
The ALS Therapy Development Institute and its scientists actively discover and develop treatments for ALS. The Institute is the world's first and largest nonprofit biotech focused 100 percent on ALS research. Led by ALS patients and their families, the charity understands the urgent need to slow and stop this horrible disease. The ALS Therapy Development Institute, based in Cambridge, MA, has served as one of the leaders in sharing data and information with academic and ALS research organizations, patients and their families. For more information, visit http://www.als.net.
About Anelixis Therapeutics
Anelixis Therapeutics, LLC is a mission-aligned translational medicine and drug development company created by the ALS Therapy Development Institute in 2013. It uses innovative business models as a virtual biotech to advance potential ALS treatments, licensed from the Institute and other like-minded organizations, through early stage clinical development, adding value to the most promising lead candidates and preparing them for later stage development together with larger biotechnology and pharmaceutical companies. For more information, visit http://www.AnelixisTherapeutics.com or contact 617-599-6514.
About Lonza
Lonza is one of the world's leading and most-trusted suppliers to the pharmaceutical, biotech and specialty ingredients markets. It harnesses science and technology to create products that support safer and healthier living and that enhance the overall quality of life.
Not only is it a custom manufacturer and developer, Lonza also offers services and products ranging from active pharmaceutical ingredients and stem-cell therapies to drinking water sanitizers, from the vitamin B compounds and organic personal care ingredients to agricultural products, and from industrial preservatives to microbial control solutions that combat dangerous viruses, bacteria and other pathogens.
Founded in 1897 in the Swiss Alps, Lonza today is a well-respected global company with more than 40 major manufacturing and R&D facilities and approximately 9,800 full-time employees worldwide. The company generated sales of about CHF 3.64 billion in 2014 and is organized into two market-focused segments: Pharma & Biotech and Specialty Ingredients. Further information can be found at http://www.lonza.com.
ALS Therapy Development Institute Contact Information
Mari Cody
Public Relations Manager
617-441-7220
mcody(at)als.net
Lonza Contact Information
Constance Ward
Head External Communications
Tel +41 61 316 8840
Fax +41 61 316 9840
constance.ward(at)lonza.com