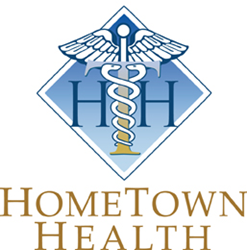 Performance is improved when physicians communicate with physicians. That is why we use physician to physician teaching
Cumming, GA (PRWEB) May 27, 2015
HomeTown Health, along with other physician health information technology experts, traveled to six north Georgia cities on May 13 & 14. In each city, a hospital served as host for local physicians to meet with the group of representatives and receive assistance, answers and education. Over 120 physicians and office staff attended.
Referred to as the "Rural Physician Bus Tour," the event is designed to bring together Health Information Technology and ICD-10 resources with primarily Physicians and office staff, giving them the opportunity to address multiple areas of need at one time: assess the progress of the practice in the Meaningful Use attestation process, receive assistance with questions related to Medicaid Incentive payments and provider enrollment, assistance with reimbursement issues, and education for the ICD-10 transition.
The second bus tour offered by HomeTown Health, this tour included GA-HITEC, HP, GaHIN, and the Department of Community Health, as well as additional new resources from the Medical Association of Georgia and HomeTown Health University (HTHU.net) in the area of physician documentation training.
The driving force behind the creation of the bus tour in 2014 was the urgent need to provide rural physicians with technical assistance with the Meaningful Use attestation process required to receive their Incentive funds. This need continues to be addressed on the bus tour to north Georgia, continues in 2015, as well as the added challenge for physicians that is quickly approaching: the transition to ICD-10 on October 1, 2015.
Dr. James S. Dunnick, MD, FACC, CHCQM, CPC was one new resource on the bus this year visiting each hospital. At each stop, Dr. Dunnick, a cardiologist, certified coder, and certified in compliance, provided ICD-10 education sessions to physicians, as well as coders, practice administrators, hospital staff, and hospital administrators. "A general fear among economists is that hospitals and physicians are not as prepared as they think. Increased payment delays, worsened denial rates, and more audit losses will dramatically upset revenue cycle and cash flow," he noted. "Rural hospitals and physicians are felt to be the highest risk."
The live training provided to physicians as a part of HomeTown Health's annual ICD-10 preparation program was aimed at helping with this issue. "Performance is improved when physicians communicate with physicians. That is why we use physician to physician teaching," noted Dr. Dunnick.
With the transition to ICD-10 less than five months away , the need for continued education specifically within rural physician offices was verified among the participants on the tour. Upon registering, each attendee was asked to indicate whether they had begun preparing their staff and physicians for the transition to ICD-10-CM on October 1, 2015. Out of physician offices represented, 57% of respondents indicated that they have begun taking steps to prepare. 16% responded that they have not begun preparing, and alarmingly, 27% indicated that they were "unsure."
Equally important to the group is the need to raise physician's awareness of secure messaging and health information exchange and the vital role it plays in coordinated care and improved health outcomes of their patients. Education on other areas such as Direct Messaging and Health Information Exchange was also provided to practice administrators and physicians. 31% of the participating physician groups indicated that they have not yet implemented Electronic Health Records; and 51% indicated they have not yet met stage one meaningful use.
"The Rural Physician Outreach Bus Tour is extremely important for the doctors to see the reality of the future of what's coming in the near future." expressed Earl Whiteley, CEO of North Georgia Medical Center, and veteran healthcare executive, whose facility was among those with the highest number of participants.
Kathy Whitmire, Managing Director of HomeTown Health, notes another unique benefit of holding a bus tour. "The bus tour is special in that it provides an opportunity for experts in Atlanta to get out of the city and see the unique challenges facing rural providers at each stop. However, equally as beneficial is the time together riding on the bus between provider visits. The ability to travel together creates a unique opportunity for brainstorming, sharing of challenges, and the creation of potential solutions and collaborations among a group of individuals all working to support physicians."
The tour bus included visits to Northridge Medical Center in Commerce, Habersham Medical Center in Demorest, Mountain Lakes Medical Center in Clayton, Union General Hospital in Blairsville, North Georgia Medical Center in Ellijay and Chestatee Regional Hospital in Dahlonega.
About HomeTown Health
HomeTown Health, LLC is an organization of more than 70 rural and small hospitals, located throughout the southeast, which collectively pursues ways to help our hospitals survive in this environment of tremendous budget cuts from the state and federal level. The mission of HomeTown Health is to ensure that rural healthcare is preserved at the local community level wherever possible and that a continuum of care is available to the rural populations. For more information, visit http://www.hometownhealthonline.com.