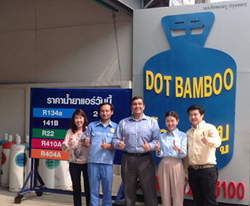 Silver Winner For The NEWS 2015 Dealer Design Award!
Fort Lauderdale, FL (PRWEB) July 30, 2015
Uniweld will display their full range of HVACR tools which include refrigeration manifolds, gauges, hoses, vacuum pumps, brazing equipment, hand held brazing torches, tubing tools and nitrogen equipment, along with other related accessories for the industry.
Uniweld will participate jointly with their authorized distributor in Thailand, Dot Bamboo. Dot Bamboo (Bangkok) Co., Ltd was established in 1975, solely supplying refrigerants under "FORANE®" brand over the past 40 years. With their established distribution network in Thailand, Uniweld products and tools are the perfect complement to Dot Bamboo's philosophy of providing total customer satisfaction by providing value-added products to their portfolio.
Uniweld will display their Award Winning NitroVue NV1, which was awarded The NEWS 2015 Dealer Design Award. The NV1 NitroVue nitrogen flow indicator simplifies the purging process, as well as compliments the brazing process to eliminate internal oxidation of copper tubes. With the NitroVue visual orange float ball, this helps the technician to conserve nitrogen consumption and reduce operating cost. Uniweld's Nitrovue™ product review can be found on page 32 of the NEWS' article. Learn more about the NitroVue™ Flow Indicator by watching the company's informational product video, "Brazing with NV1 NitroVue™ & Cap'n Hook Tip".
Additionally, visitors to Dot Bamboo's booth F38/F36 in Zone EH102, will be able to take the EZ Turn™ Challenge. Uniweld's revolutionary EZ Turn™ Anti-Blowback hoses have a thrust bearing that reduces friction so the service hose can be easily connected to access fittings while under pressure without the loss of refrigerant, and without the risk of suffering finger burns from the refrigerant.
Uniweld Products, Inc. has manufactured quality HVACR tools and equipment at its factory located in Fort Lauderdale, Florida U.S.A. since 1949. Be sure to visit Uniweld and Dot Bamboo at Bitec Bangna in Bangkok at, booth #F38/F36 Zone EH102.
Uniweld Products… "Quality tools that go to work with you.®"