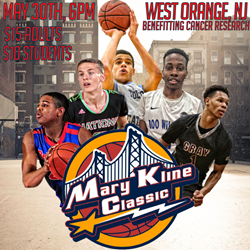 West Orange, NJ (PRWEB) May 27, 2015
Entering year five, the Mary Kline Classic Charity All-Star Event will return to West Orange, N.J. in May with two games showcasing some of high school basketball's top talent. West Orange High School will host the 5th annual event benefiting cancer research on Saturday, May 30th as part of a double-header with the Underclassmen Game and Senior game. The Three-Point Contest and Slam Dunk Contest presented by Gatorade will take place in between. Tip off is at 6 p.m. EST as top sophomores, juniors and seniors take the floor with the hope of raising awareness and funds for cancer research to support Thomas Jefferson University Hospital of Philadelphia and the National Brain Tumor Society. These top prospects will follow in the footsteps of previous MKC alumni Tyler Ennis, Karl Anthony-Towns, Rondae Hollis-Jefferson, Chris McCullough, Isaiah Whitehead, Romelo Trimble, Cheick Diallo, Isaiah Briscoe and others.
The Underclassmen game will tip off at 6:15 p.m. following a speech from this year's guest of honor, Kyle Atkinson, a cancer survivor and former basketball player. The Underclassmen game is comprised of 20 of the top high school sophomores and juniors.
Following the first game, the Three-Point Contest will take place at 7:30 p.m. followed by the Slam Dunk Contest. Last year's slam dunk champion, Unique McLean, had his winning dunk appear on SportsCenter's Top 10 Plays of the Day.
The seniors will rap up the event at 8:15 p.m. as the class of 2015 takes the court. 20 of the nation's top seniors will take the floor to play for a greater cause. Last year's M.V.P.'s were Miami's Ja'Quan Newton and Villanova's Phil Booth.
"We are ecstatic about the 5th annual Mary Kline Classic," said Mary Kline Classic director Alex Kline. "Based on the success of previous events, including last year's event which raised $31,000, this year's product has the potential to top that from an entertainment value, as well as raising money and awareness for a great cause. My mother, Mary Kline, would be thrilled with the legacy and impact this event continues to have."
To date, the event has raised over $104,000 for cancer research and has been recognized by many national media outlets, including Sports Illustrated and the New York Times.
The Mary Kline Classic partners with a number of great companies, including: Gatorade, Nike, Krossover, Chipotle, Monster Headphones, Thomas Jefferson University Hospital, Cathy Lehman Gursha Special Events, Payroll Solutions, National Brain Tumor Society, People Metrics, Strideline and Crown Trophy.
Tickets for the Mary Kline Classic will be on sale at West Orange High School the day of the event for a donation to charity. Adults pay $15 and students with a valid ID pay $10. For more information, visit the official web site, http://www.MaryKlineClassic.com, or follow the MKC on Twitter @MKC2K15 or @TheRecruitScoop.
2015 Mary Kline Classic participants
SENIOR GAME
Team Perseverance
Jalen Adams (Brewster Academy, NH/UConn), Terance Mann (Tilton School, NH/Florida State), Steve Enoch (St. Thomas More, CT/UConn), Prince Ali (Sagemont School, FL/UCLA), Matt Ryan (Iona Prep, NY/Notre Dame), Aaron Falzon (Northfield Mount Hermon, MA/Northwestern), Josh Sharma (Northfield Mount Hermon, MA/Stanford), Rayjon Tucker (Northside Christian Academy, NC/Florida Gulf Coast)
Coached by Jason Smith, Eric Harrield and Kevin Funston
Team Courage
Chris Clarke (Cape Henry Collegiate, VA/Virginia Tech), Justin Jenifer (Milford Mill, MD/Cincinnati), Derrick Jones (Archbishop Carroll, PA/UNLV), Chris Silva (Roselle Catholic, NJ/South Carolina), Davon Dillard (Our Savior New American, NY/California), Moustapha Diagne(Pope John XXIII, NJ/Syracuse), Myles Stephens (St. Andrews, DE/Princeton), Kenny Williams (L.C. Bird, VA/North Carolina)
Coached by Matt Pauls, Chris Alesi and Jamal Slappy
UNDERCLASSMEN GAME
Team Inspiration
Trevon Duval (St. Benedict's, NJ/2017), Matt Coleman (Maury, VA/2017), Temple Gibbs (Seton Hall Prep, NJ/2016/Notre Dame), Unique McLean (MacDuffie, MA/2016), Curtis Jones (Huntington Prep, WV/2016), Kodye Pugh (Blair Academy, NJ/2017), Bruce Brown (Vermont Academy, VT/2016), Sedee Keita (22-Feet Academy, SC/2016), Jordan Tucker (Archbishop Stepinac, NY/2017), Nicholas Richards (The Patrick School, NJ/2017)
Coached by Chad Babel, Dave Gates and Jack Meriweather
Team Bravery
Chris Lykes (Gonzaga Prep, DC)/2017), Jagan Mosely (St. Anthony, NJ/2016), Breein Tyree (St. Joseph's Metuchen, NJ/2016), D.J. Harvey(DeMatha Catholic, MD/2017), Markelle Fultz (DeMatha Catholic, MD/2016), Matthew Moyer (Gahanna Lincoln, OH/2016/Syracuse), Ty Jerome (Iona Prep, NY/2016/Virginia), Michael Porter Jr. (Tolton Catholic, MO/2017), Kyle Guy (Lawrence Central, IN/2016/Virginia), Hamidou Diallo (Putnam Science, CT/2017), Mamadou Diarra (Putnam Science Academy, CT/2016)
Coached by Mike Jones, Billy Diamond and Doug Martin
Slam Dunk Contest presented by Gatorade: Breein Tyree, Derrick Jones, Unique McLean, Prince Ali, Davon Dillard, Josh Sharma, Chris Silva & Rayjon Tucker
3-Point Shootout presented by Gatorade: Matt Ryan, Ty Jerome, Michael Porter Jr., Aaron Falzon, D.J. Harvey, Jordan Tucker, Kenny Williams & Kyle Guy