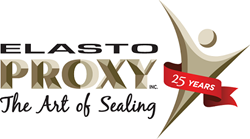 Visit Elasto Proxy at CANSEC in Booth 935 and find sealing and insulation solutions for military projects.
(PRWEB) May 27, 2015
Elasto Proxy, custom fabricator of military gaskets for armored vehicles, is announcing resources for defense industry professionals who need assistance with technical design and elastomer selection. In an on-line article and video, the Canadian manufacturer explains how the acronym MRAP describes what gasket designers need to know when specifying rubber products such as door seals and EMI gaskets.
From MRAP to MTAP
Defense industry suppliers are familiar with vehicle acronyms such as MRAP, but seal designers also use their own lingo. The term MTAP describes how media, temperature, application, and pressure drive design decisions with regard to rubber gaskets. Gasket designers must understand each variable, and can strengthen the defense supply chain by choosing an experienced custom fabricator.
As Elasto Proxy's MTAP article explains, media includes fuels, chemicals, and cleaners. Temperature, the T in MTAP, is also critical because it effects compound selection. All military gaskets aren't the same, of course, so applications such as window seals and EMI gaskets have different requirements. Finally, the P in MTAP stands for pressure, which is measured typically in pounds per square inch (psi).
About Elasto Proxy – How Can We Help You?
Elasto Proxy specializes in the design and custom fabrication of specialty seals and gaskets, thermal and acoustic insulation, vibration dampening products and materials, EMI shielding, and other high-quality rubber components and plastic parts for a variety of industries, including military and defense.
For over 25 years, we've supplied low-to-medium volume quantities of high-quality products such as military gaskets for armored vehicles. If you're headed to CANSEC 2015, visit Elasto Proxy in Booth #935 and contact Clyde Sharpe at csharpe(at)elastoproxy(dot)com to arrange a meeting.
Media Contact:
Clyde Sharpe
General Manager
Elasto Proxy Inc.
4035 Lavoisier Street
Boisbriand, Quebec, Canada J7H 1N1
csharpe(at)elastoproxy(dot)com
Ph: (450) 434-2744