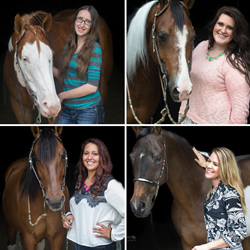 Fulton, MO (PRWEB) June 10, 2015
William Woods University is competing in the 2015 Pinto World Championship at the Built Ford Tough Livestock Complex in Tulsa, Okla. The 13-day event runs from June 8-20.
The Pinto World Championships is one of the largest single breed horse shows in the country, with upwards of 8,000 entries and hundreds of events.
A pinto horse is a color breed, rather than a breed defined by genetic ancestry. It has a coat color with large patches of white and any other color. This kind of coloring is the most popular in the United States.
"This is such a great show and opportunity for students to compete at the national level. Pinto is very student friendly and from the stalling office, the show office to the paddock master you know that they are there to support you," said Jennie Petterson, William Woods University Associate Professor and Equestrian Studies Division Chair.
"William Woods University has a long history of attending the Pinto World Championships with William Woods University-owned horses," Petterson said, "The Pinto Horse Association of America organizes a wonderful competition with top quality judges and officials and fabulous prizes and awards."
Because of the summer show schedule, William Woods University attends the Pinto World Championships every other year. In 2013, riders and horses from the university earned 18 World Champion and Reserve World Champion titles, in addition to high point awards.
This year's William Woods University team is made up of three students, all very dedicated, says Petterson. Riders include: Grace Routh, Patti Finch, Josie Metoxen and Jennie Petterson will also be showing this year.
The team has been working through a 30-day schedule to prepare for the trip to Tulsa, scheduling everything from clipping to washing tails and practicing patterns.
"The first obligation for our horses is to our students during the school year," Petterson said, "This means that we can't start specializing our show prep program until finals week is over. That leaves us with 30 days to put the shine and polish on the riders and horses after the last final is complete."
"The students have shown tremendous dedication and are really working to be as prepared as possible. All of the horses that we are taking to the world show were being ridden by multiple students this semester and serving as excellent teachers. Now they will be shown as competition horses in very specific events. It's a challenging change to make, but we do this every year and it works."
Grace Routh is showing William Woods-owned WV Kyss of Fame in hunt, western and halter classes. Routh has shown "Rudy" at a number of on- and off-campus competitions and has been preparing herself for the Pinto World Show since arriving on campus as a freshman. Routh will show Rudy in hunt, western, halter and showmanship classes. With multiple open and amateur titles under his belt earned by students and faculty, Rudy is not a new face at the Pinto World Show.
Jennie Petterson will also exhibit Rudy in the open western division.
Josey Metoxen will be exhibiting Balido KA or "Balido." In his third appearance at the Pinto World Show, with multiple open and amateur titles earned with students and faculty in the past, Metoxen will show Balido in hunt, showmanship and western classes.
As a half Andalusian pinto," Petterson said, "Balido presents a different style of horse at the Pinto World Show."
Patti Finch will compete in western and trail classes with Lonestar's Zipsational (owned by faculty member Liz Haben). This will be Zipper's debut at the World Championships.
Petterson will also exhibit Tarbask Desert Indian for William Woods University in open halter and color classes in Tulsa. "Scout" was the unanimous World Champion in the open pleasure type geldings in 2013 with Petterson at the lead.
About William Woods University Equestrian Programs
The first university in the United States to offer a four-year degree in equestrian science, William Woods University has been the name to know in equestrian studies since 1924. William Woods University offers nationally-ranked and competitive Equestrian bachelor's degree programs in Equestrian Science, Equine Administration, General Studies, as well as an online Master of Education (M.Ed) in Equestrian Education.