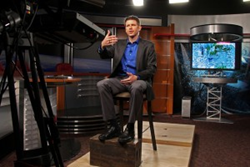 We package that delivery with excellent personal service and attention to every detail, thus ensuring the customers total experience is trouble free and dependable from start to finish
(PRWEB) May 28, 2015
Microspace Communications has provided world class live shot production and distribution from its Raleigh NC studio for well over 30 years. The impressive list of clients that use Microspace's services is truly a Who's Who among large, medium and small media outlets. Most of these organizations operate domestically and internationally.
The company's connectivity is unmatched in the region. Microspace offers C and Ku band satellite uplinking, multiple fiber distribution providers, including Level3/Vyvx and The SWITCH, as well as internet delivery solutions with LTN and Digicaster. In addition to traditional services, Microspace provides a wide variety of new offerings, including editing and transcoding of recorded or live video in multiple IP streaming formats. Microspace offers CDN services as well as delivery of video streams to the CDN specified by the customer.
Bonnie McNay, Manager of the Microspace Video Services facility commented, "Each of our valued clients understand that our goal has always been to provide flawless delivery of their content. We package that delivery with excellent personal service and attention to every detail, thus ensuring the customers total experience is trouble free and dependable from start to finish".
The Microspace studio contains professional grade video and audio processing and recording equipment, lighting, digital cameras, teleprompter, as well as green screen and full screen digital backdrop options. The digital backdrop allows us to offer our clients multiple background options as well as the flexibility to provide their own digital content. Microspace can also serve any digital recording and playback requirements that organizations may have.
Microspace's green room provides a spacious and comfortable area for guests and their staff to relax and prepare for their upcoming liveshot. WiFi I is available, as well a variety of beverages and snacks. Microspace also offers professional makeup upon request.
For more detailed information or to obtain a quotation for services and book a live shot contact Bonnie McNay on (919) 850-4558 or cell (919) 395-6976 or bmcnay(at)microspace(dot)com. For direct access to the control room and studio call (919) 850 4565.
Microspace Communications is a Capitol Broadcasting Company. CBC is a diversified communications company which owns and/or operates WRAL-TV, WRAL Digital, WRAZ-TV, WRAZ Digital, WRAL-FM, WRAL-HD2, WCMC-FM, WCMC-HD1, WDNC-AM, WCMC-HD2, WCMC-HD3, WCLY-AM, WCMC-HD4, Microspace, CBC New Media Group and Wolfpack Sports Properties (a joint venture with Learfield Sports) in Raleigh, NC; WILM-TV, WILT-LD and Sunrise Broadcasting in Wilmington, NC; The Durham Bulls Baseball Club in Durham, NC; and real estate interests including the American Tobacco Project and Diamond View office buildings in Durham, NC.