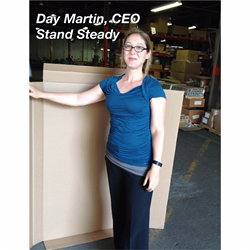 I'm doing this. This is possible.
Fairfax, VA (PRWEB) May 28, 2015
"Students and particularly girls, are not exposed to the subject (Computer Science) before college," reported last week's NY Times article titled, "Making Computer Science More Inviting: A Look at What Works" by Claire Cain Miller. Day Martin, CEO of Stand Steady, is a strong example of the good that can happen when Computer Science is introduced during elementary school.
Day agrees with the article's points. She adds, "It's great that the New York Times has printed this article on colleges' efforts to increase the numbers of women in Computer Science. Miller focuses on colleges' efforts and also mentions the importance of early exposure at the Elementary level. As a STEM CEO and mother to of two kids, including one girl, this issue is critical. Like Healthcare and Education, dollars spent while kids are young are more impactful than dollars spent later."
STEM Experience in Elementary School
Day Martin says she learned problem-solving skills in a computer programming lab when she was an elementary school student. Martin explains, "Computer lab stuck with me. Basic programming was fun, it clicked and I loved it. It was fun to break everything down into small steps and then loop back and see how they relate."
Martin recently organized an after-school Robotics Club at her own children's school, Stenwood Elementary in Northern Virginia. The Robotics Club philosophy is hands-on, learn by trial & error, and integrates teaching robotics while exploring physics, electronics, and robotics tech. The students build their own robotic toys. Bahram AzabDaftaria, who runs these Robotics clubs, describes Day as "smart and analytical advocate for girls' STEM education."
STEM Woman Role-Model
Day Martin's professional life is skillfully controlling what has turned into a multi-million dollar manufacturing and e-commerce business in Fairfax County. Martin initially invented the Stand Steady standing desk because of her own back pain problem; she couldn't find any affordable standing desk converters to put in her cube at The Corporate Executive Board (CEB) in Rosslyn, Virginia. She was surprised by how many other people were looking for the same solution. Her self-funded start-up has seen astronomical revenue growth in the 2 years it has been selling the Original Stand Steady standing desk online.
A skilled data analyst, Day utilizes math skills in everything from data spreadsheets, forecasts, inventory reports and operations, to product design, ergonomic measurements, and the complexity of product packaging, shipping, warehousing and storage. Day works with the team's engineers to get precise performance from her products, using tape measures, test drops, exact measurements and usability design. And maybe her secret weapon has been in technology, mastering the e-commerce functionality of her multiple online sales channels. She wears many hats, which means she's also an expert at building websites, does coding, and manipulates SEO and Social Media.
Looking forward, it's a worthy idea to get girls interested in leaders like Day Martin. At Stenwood Elementary's after-school Robotics Club, only one-fourth of the total enrollees were girls. This was disappointing for Day, but she is committed to changing it, and has a goal of reaching 35% for Fall 2015. She states, "Girls are missing out on awesome STEM careers and consumers are missing out on the women's esthetic in product design. Stuff hasn't been designed for half the population (women)…Girls need more examples of women leading manufacturing companies and product design. My message is: I'm doing this. This is possible."
For additional information on Stand Steady and Day Martin visit http://standsteady.com/
About Stand Steady
Stand Steady was founded in 2012 in Fairfax, Virginia. Stand Steady is a leading manufacturer of affordable, ergonomic, adjustable standing desks online, selling thousands of desks nationally and internationally. Apartment Therapy named Stand Steady as one of the top affordable standing desks, with an award for The Traveler Folding Stand up Desk. Stand Steady's standing desk converters combat the negative impacts of sitting all day including back pain and increased rates of cardiovascular disease and diabetes. For more information about Stand Steady, please visit the company's Web site at http://www.standsteady.com.