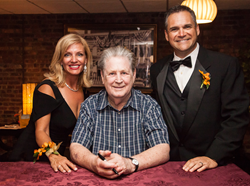 New Brunswick, NJ (PRWEB) May 26, 2015
On May 16, 2015 the State Theatre Benefit Gala, featuring legendary Beach Boy Brian Wilson in concert, raised over $803,000 for the nonprofit performing arts center. This year's Gala was the highest-grossing fundraiser in its 27 year history. Proceeds from the Benefit Gala support the State Theatre's acclaimed artistic and educational programs.
"This year's gala was a resounding success thanks to the unwavering support of our honorees and the untiring efforts of our gala committee," commented State Theatre President & CEO Tom Carto.
This year's gala concert featured a performance by Brian Wilson. Co-founder of The Beach Boys, Wilson and his band performed classics such as "Help Me Rhonda," "Don't Worry Baby," "In My Room," and "Good Vibrations."
The State Theatre Benefit Gala 2015 recognized three honorees this year—Corporate honoree, Investors Bank; Patron honorees, Sharon and Louis Cyktor; and Exemplary Leadership honoree, Warren R. Zimmerman.
"We're truly proud of our partnership with the State Theatre," said Kevin Cummings, President and CEO, Investors Bank. "The State Theatre is a leader in the arts community and we appreciate them for honoring us, but we thank them for all they do to make New Jersey a better place."
"I am extremely proud to have served as a Board of Trustee, Board Chairman for four years, and Interim President and CEO for the past year," said Warren R. Zimmerman. "I am fortunate to be associated with this wonderful theatre and to be part of its growth and success."
"The State Theatre does great work in the local community and we proudly support their mission of providing accessible and affordable arts education programs to people of all ages and backgrounds," said honoree Sharon Cyktor. "It was a wonderful evening and we were overjoyed to be honored."
More than 400 patrons attended the Black-Tie Dinner Dance at New Brunswick's The Heldrich Hotel. Among the attendees were community, arts, business, and civic leaders from central New Jersey and around the state. In addition to the concert, Gala festivities included a dinner reception, a silent auction with over 70 items, open bars, dessert bars, dancing, and live music.
"It has been an honor for us to serve as Gala Co-Chairs and help support the mission of the State Theatre and its meaningful work in the community," commented Gala Co-Chairs Brent and Susan Podlogar. "We would like to thank the entire Gala Committee for all their hard work and dedication in making this year's event yet another success."
The State Theatre Benefit Gala 2015 committee included (Gala Co-Chair) Brent Podlogar of Flemington; (Trustee/Gala Co-Chair) Susan Podlogar of Flemington; (Trustee/Gala Vice-Chair) Jacqueline Hancock-Pena of Perth Amboy; (Vice Chairman/Gala Vice-Chair) Scott Fergang of Ramsey; (Trustee) Ann H. Asbaty of Randolph; Lisa Berlin of Highland Park; Madiha Boraie of Milltown; Mary Agnes Brodowski of Yardley, PA; Diane Garback of Manasquan; Cathy Gombas of East Brunswick; Eileen Harkins of New Brunswick; (Trustee) Bill Herman of Clifton; Carolyn and Dave Horn of Skillman; Ernie W. Knewitz of Millburn; Curt Lang of Flemington; (Trustee) Caryl Mackin-Wagner of Williamstown; (Trustee) Andrew J. Markey of Basking Ridge; (Trustee) Richard T. McDonald of Millstone Township; Karen Needham of Hillsborough; John Reissner of Tinton Falls; Dave Retcher of Kendall Park; Maggie Stavrianidis of Somerset; (Trustee) Peter Stavrianidis of Somerset; and Jennifer Zimmer of Edison.
The Emerald Gala Sponsors included: Investors Bank, Johnson & Johnson Family of Companies, Caryl Mackin-Wagner and Michael Wagner, and Robert Wood Johnson Foundation.
Platinum Gala Sponsors included: American Benefits Consulting; Boraie Development LLC; Cigna; Sharon and Louis Cyktor; Russell and Stephanie Deyo; and Doug and Diane Garback, Prudential – The Garback Agency.
State Theatre, a premier nonprofit venue for the performing arts and entertainment. The theater exists to enrich people's lives, contribute to a vital urban environment, and build future audiences by presenting the finest performing artists and entertainers and fostering lifetime appreciation for the performing arts through education. The State Theatre's programs are made possible, in part, by funding from the New Jersey State Council on the Arts/Department of State, a Partner Agency of the National Endowment for the Arts, and contributions from numerous corporations, foundations, and individuals. The Heldrich is the official hotel of the State Theatre. Magic 98.3 is the official radio station of the State Theatre. The Star-Ledger is the official newspaper of the State Theatre. United is the official airline of the State Theatre.
STATE THEATRE
15 Livingston Ave
New Brunswick, NJ 08901
Ticket Office - 732-246-SHOW (7469)
Online - http://www.StateTheatreNJ.org
PHOTOS AND INTERVIEWS FURNISHED UPON REQUEST
Please contact Kelly Blithe at
732-247-7200, ext. 542 or by email at kblithe(at)StateTheatreNJ(dot)org.
Up-to-the-minute information on events and State Theatre news,
online at http://www.StateTheatreNJ.org.
# # #