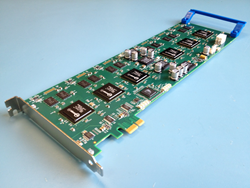 The XC10 is a result of our continual pursuit to increase stream handling capacity while decreasing the cost per stream for MPEG transcoding solutions
Singapore (PRWEB) May 31, 2015
VideoPropulsion® (OTC:VPTV) announces the launch of its XC10 MPEG Transcoder PCIe card this week at Broadcast Asia 2015 in Singapore. The XC10 now powers the company's FG-5000 Series Transcoder appliances to support over 300 streams in just 3U of rack space. In addition to high-density MPEG transcoder solutions, the company is also showing its line of EdgeQAMs, 128 channel DVB-C QAM modulator and other DVB PCIe cards for OEMs, and content security solutions.
VideoPropulsion has created a scalable line of PCIe MPEG transcoder cards with their XC2, XC4, XC6, and now XC10 cards. This enables the company along with OEMs and System Builders to create MPEG transcoding solutions that support from as few as 8 streams to literally hundreds in a single appliance.
The XC10 is a multi-format transcoder capable of delivering up to 40 streams in broadcast environments and up to 80 for adaptive bitrate (ABR) applications. The card can transcode from MPEG2 to H.264, H.264 to MPEG, or H.264 to H.264. The XC10 supports transrating and transcaling of HD bitrates and rolutions down to smaller formats suitable for delivery in mobile video playback applications like Over-The-Top (OTT) and TV Everywhere.
"The XC10 is a result of our continual pursuit to increase stream handling capacity while decreasing the cost per stream for MPEG transcoding solutions ", said Carl Pick, Founder, CEO, and Chief Scientist at VideoPropulsion. "Our complete line of cards culminating in the XC10 enables us to deliver scalable transcoder solutions at a fraction of the price compared to the rest of the industry".
About VideoPropulsion
Now in it's 40th year, VideoPropulsion has been a world leader in hardware and software for high performance, low cost per stream, digital content manipulation, and has established a reputation for providing unique HDTV, VoD, and IPTV products. The Company offers revolutionary FloodGate satellite and CATV transcryption appliances as well as OEM computer modules for a variety of applications, including streaming, multiplexing, demultiplexing, modulation, demodulation, transcoding, encryption, and splicing MPEG formatted data.
For further information, contact:
Kathy Cain
Vice President of Sales
VideoPropulsion
255 Info Highway
Slinger, WI 53086
(262) 644-1000 x107
sales(at)videopropulsion(dot)com
http://www.videopropulsion.com
VideoPropulsion and FloodGate are registered trademarks of VideoPropulsion Interactive Television, Inc.