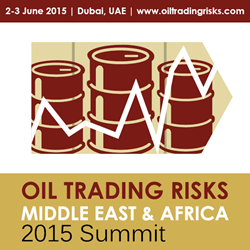 It's an IRN Summit!
(PRWEB UK) 26 May 2015
With oil being such a volatile, political and essential commodity, managing the risks related to its trading has become a very important part of the strategy for oil trading companies to maintain their profits. Companies operating within the Middle East and Africa regions have to carefully observe the market trends of these areas and the region-specific risks in order to adapt their risk management strategies accordingly. Senior level speakers from oil trading houses and oil consuming companies will gather to discuss market, financial, political and counterparty risks associated to oil trading.
The Oil Trading Risks Middle East & Africa 2015 Summit, held by IRN next week on 2nd-3rd June in Dubai at The Meydan Hotel will address exactly these issues gathering oil stakeholders to discuss and minimize the risks. The Summit will begin on the first day with a panel discussion on risk management in the Middle East and Africa that will address the current status and trends in the region, offering a comparison with risk management strategies in Europe. Senior representatives from Golden Crown, ENOC and Ikon Petroleum will be amongst the panellists. This session will be followed by a presentation around reducing risks related to entering new markets in Africa, led by Mr Shabbir M. Shikari, Manager - Risk Management at ENOC.
Speakers at the conference will also provide more information on trade sanctions, technological tools to identify and mitigate risks, new oil products and their impact on markets and pricing or price risk minimisation through an adequate hedging strategy, to name but a few topics.
Amongst the Speakers at this Summit are:

Hassan Al Alawi, Manager Portfolio Management, The Oil & Gas Holding Company (NOGAholding)
Abdullah Zeren, Market Risk Manager, Aves Ic ve Dis Ticaret A.S.
Haroon Imtiaz, Head of MENA, Hess Energy Trading Co. (HETCO)
Cyril Secchi, Senior Products Trader, Golden Crown
Henry Smith, Associate Director – Global Risks Analysis, Control Risks
Shabbir M. Shikari, Manager - Risk Management, ENOC
Jean-Guillaume Herpe, Risk Manager, Ikon Petroleum
Claudio Ribeiro, Senior Trader and Lead Negotiator, Shell
KM Riyazuddin, Chief Finance Manager (International Trade), Bharat Petroleum Corporation Limited
Kreshnik Frakulla, Risk Management and Trade Finance, Oando
Jean-Christophe Desaintfuscien, Executive Director – Energy & Resources, National Bank of Abu Dhabi – NBAD
Anupama Bhatia, Chief Financial Officer, Milio International Ltd
The Oil Trading Risks Summit is sponsored by the software solutions provider, ComFin; the information technology, consulting and business process services company, Wipro; and the multi-market commodity software solution provider, Allegro. The Summit is also supported by The Arab-British Chamber of Commerce.
For more information about the Summit, Speakers and the Agenda, visit the website: http://www.oiltradingrisks.com