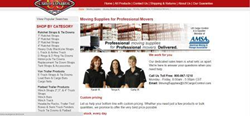 "This new page displays our commitment to those in the business of moving," Watson said. "It's just another example of how US Cargo Control is working for its customers."
Urbana, Iowa (PRWEB) May 27, 2015
US Cargo Control, a leading supplier in the cargo control and moving supplies industries unveiled changes to its moving blanket webpage during one of the busiest times for moving.
Spring is the start of moving season as half of all moves are expected to take place between May and Labor Day. US Cargo Control is a supplier member of The American Moving & Storage Association (AMSA), which recognizes May as National Moving Month and the kick off to this peak period.
US Cargo Control enhanced its moving blanket webpage with a cleaner layout that better communicates the description, prices and categories of the blankets available for purchase. This was done to give shoppers a better experience during what can be a stressful, busy time.
In addition to the improvements made on the homepage, the company also created a page designed specifically for professional moving companies. It provides information about custom pricing, products and shipping tailored to those in the business of moving.
USCC Director of Business Development Sarah Watson says her team wanted a pro-page to better communicate those specific services and capabilities so movers don't miss any opportunities.
"This new page displays our commitment to those in the business of moving," Watson said. "It's just another example of how US Cargo Control is working for its customers."
In addition to the webpage revamp, USCC is also participating in AMSA's National Moving Month providing weekly moving tips through social media.
"We want people take advantage of our great products, service and expertise and stock up on the right supplies to make their move as smooth as possible," Watson explained. "Our revamp and tip initiative is all about giving the customer the best experience possible."
About US Cargo Control
US Cargo Control is a leader in the cargo control industry, specializing in lifting slings, cargo control, rigging equipment and moving supplies. Focused on offering quality products, timely delivery, and an excellent customer experience, customers can purchase products on the company's website, USCargoControl.com or by phone at 866-444-9990.