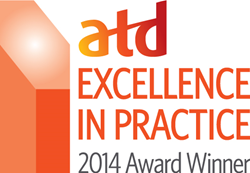 Miramar, Fla. (PRWEB) May 27, 2015
Arise Virtual Solutions Inc., the leading, global provider of virtual/work-at-home business process outsourcing (BPO) solutions, announced today that it has been awarded an Excellence in Practice Award for Organizational Learning & Development by the Association for Talent Development (ATD), formerly ASTD.
ATD's Excellence in Practice program recognizes organizations for results achieved through the use of practices and solutions from the entire scope of talent development. Awards are presented to organizations with proven practices that have delivered measurable business results in achieving organizational goals.
ATD received 126 submissions in the fall of 2014 from organizations around the world. Thirteen organizations received awards and 30 were recognized with citations.
"We are excited to be 1 of just 13 organizations selected to receive this award," said Peter Schiller, SVP & GM of IB Operations at Arise Virtual Solutions. "The achievements and results for which we were recognized exemplify our commitment to excellence and developing new solutions to make it easier and more efficient to do business with us. It is what allows Arise to stand apart from all others and makes our learning and development practices among the best in the business."
About Arise Virtual Solutions:
Arise Virtual Solutions is changing the way companies think about call center services. Arise provides a virtual platform to connect primarily work-at-home service professionals running small call center businesses to Fortune 500 and other large companies. For over a decade, Arise's platform has enabled superior and extremely flexible customer contact, business processing and consulting solutions for numerous companies around the globe, uniquely blending crowdsourcing innovation, virtual technology and operational efficiencies to deliver an enhanced customer experience for a company's customers.
To learn more about No Boundaries, Better Results™ and how Arise Virtual Solutions can help you, please visit http://www.arise.com.
About ATD
The Association for Talent Development (ATD), formerly ASTD, is the world's largest association dedicated to those who develop talent in organizations. These professionals help others achieve their full potential by improving their knowledge, skills, and abilities.
ATD's members come from more than 120 countries and work in public and private organizations in every industry sector.
ATD supports the work of professionals locally in more than 125 chapters, international strategic partners, and global member networks.