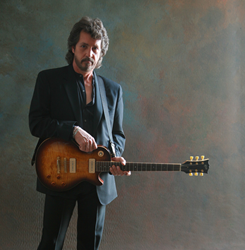 The Michael Stanley concert is an extension of our efforts to raise awareness about prostate cancer and the need for men over 40 to have regular prostate exams.
YOUNGSTOWN, Ohio (PRWEB) May 26, 2015
Michael Stanley's first all-acoustic concert in Youngstown in 25 years will benefit a cause that's important to all men – prostate cancer awareness.
"We're guys. We're stupid. We put things off," Stanley says, explaining why drawing attention to the need for men to have regular prostate exams is important. Prostate exams take only a few minutes, he says, but are "a proactive measure that keeps you from running into something a lot more serious."
The 7 p.m. concert June 14 in the Ford Family Recital Hall at the DeYor Performing Arts Center downtown will benefit Man Up Mahoning Valley.
Man Up, which is supported by the Mercy Health Foundation Mahoning Valley, promotes prostate cancer awareness and seeks to eliminate barriers to care by providing free prostate cancer screenings, PSA blood tests and education.
Stanley says he plays a couple of acoustic concerts a year, usually in private settings. "It's a nice change of pace for us and hopefully for the fans too, because you get to see some of your favorite things in a slightly different framework and possibly much closer to the way they were actually conceived. It's a nice thing to do every once in a while," he says.
This is a rare opportunity for fans to see and hear Stanley perform in a setting that is up close and personal. Only 600 tickets will be sold.
Small settings are often "the most fun gigs," Stanley notes. "You can actually hear yourself and see who you're playing to."
Prices start at $55. Forty of those are gold-circle meet-and-greet tickets, which cost $175 apiece. For information, contact the DeYor box office at 330-744-4269.
"The Michael Stanley concert is an extension of our efforts to raise awareness about prostate cancer and the need for men over 40 to have regular prostate exams," says Jonathon Fauvie, gift officer, Mercy Health Foundation Mahoning Valley. "Our third annual Fuel the Fight Car Show will take place earlier that day at Boardman High School and our hope is to keep the momentum going. We want to raise awareness, get people talking about prostate cancer and encourage every man living in the Mahoning Valley to get checked."
About Mercy Health Youngstown
Mercy Health Youngstown, formerly Humility of Mary Health Partners, is an integrated health system in the Mahoning Valley, which encompasses the Youngstown/Warren metropolitan area – Mahoning, Trumbull and Columbiana counties in Ohio. It is part of Mercy Health, which is headquartered in Cincinnati and is the largest health system in Ohio and one of the largest Catholic health systems in the United States. Mercy Health Youngstown provides a full spectrum of health care services – acute inpatient and trauma, outpatient and ambulatory, rehabilitation, behavioral, emergency and urgent care, primary care physicians in patient-centered medical homes, specialist physician care, home health, home medical equipment, long-term care and hospice care, as well as Mercy Health Foundation Mahoning Valley. Learn more at http://www.mercy.com/Youngstown.
###