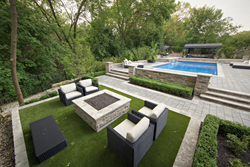 We are constantly searching for the best product in each category. We found that in EasyTurf.
Vista, California (PRWEB) May 28, 2015
Carecraft, the membership organization of choice for independent professionals in pool, spa, and patio business areas, and EasyTurf, the leader of the artificial grass landscaping industry, have officially announced their partnership.
Carecraft is a national network of independent pool professionals whose members are focused on promoting the highest standards of continuing education and securing the best pricing available on pool, spa, and backyard components. In late February, Carecraft proudly presented EasyTurf's artificial grass to its membership at their annual meeting in Aspen, Colorado.
"We are constantly searching for the best product in each category. We found that in EasyTurf. It is easy to order, cut, install, and maintain. It looks the most like real grass of any product we have seen," commented Greg Howard, president and CEO of Carecraft.
EasyTurf's state-of-the-art artificial turf offers realism, drainage, and durability to any landscaping application. EasyTurf plays a vital role in environmentally-friendly lawns, recreational fields, playgrounds, and in conservation plans for communities throughout North America.
"We are extremely pleased to be a part of the Carecraft family of products," said Steve McLean, vice president of sales for EasyTurf. "The growing trend towards synthetic turf products such as UltimateGrass by EasyTurf as a surfacing option around pools, spas, and water features allows for a clean, virtually maintenance-free alternative to natural grass. We look forward to a long-term relationship with Carecraft and their members."
The partnership grants Carecrafts' members access to EasyTurf's range of products and services. This access is especially meaningful to vendors working within drought-ravaged California, where residents are currently grappling with strict water usage restrictions. In addition to the positive environmental impact, those who make the switch from natural grass to EasyTurf are expected to save an average of 70 percent on their monthly water bill. EasyTurf has performed over 15,000 residential installations to date.
"It's great to find an American company that knows its business well and stands behind its products," Howard said. "EasyTurf is located in California and is easy to reach, easy to order from, and offers products that are easy to sell and install."
EasyTurf brings turnkey solutions for business organizations looking to capture the growing revenue potential by offering artificial grass to their clients. A top shelf product line combined with support and training makes EasyTurf the vendor of choice for a wide range of distributors.