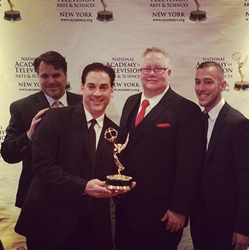 We met these patients for a short amount of time but were able to get a glimpse into their lives and their families' lives. We are so honored to help them tell their stories.
Columbus, Ohio (PRWEB) May 27, 2015
A television program using health care brand journalism tactics resulted in MediaSource and Roswell Park Cancer Institute winning a prestigious New York Emmy® award.
The award-winning story, Cancer Can't Win, highlights the amazing patients who battle cancer at the Roswell Park Cancer Institute. The production team followed five people who were battling cancer through their journey for several months as they received treatment from doctors and medical experts at Roswell.
"This was an unbelievably rewarding project," said Director Robert Leitch. "We met these patients for a short amount of time but were able to get a glimpse into their lives and their families' lives. We are so honored to help them tell their stories."
The MediaSource team brought the story to life in a television program that was aired on WTEN-TV, the ABC network affiliate in Albany, New York. The show was so popular that in the Nielsen ratings it topped actress Amy Poehler's popular sitcom "Parks and Recreation", which typically aired during that same time on the TV station.
The Emmy® award-winning team from MediaSource includes Director Robert Leitch, Producer/Director of Photography Jerred Ziegler and Writer/Voiceover Talent Clark Powell. The Roswell Park Cancer Institute production team includes Executive Producer Laurel DiBrog, Producer Ben Richey and Director of Photography Rolando Rosado.
"The fact that these patients opened themselves up and allowed us into their lives is motivating and empowering," said Ziegler, who is also a cancer survivor. "At times we felt like we were going through their cancer battle with them and their doctors at Roswell."
This award-winning health care content is an example of brand journalism content created from a national health care brand, which is MediaSource's speciality. The company, comprised of former journalists and multimedia storytellers, is one of the industry's leading brand journalism producers. The MediaSource/Roswell team was recognized at the Emmy® Award Ceremony along with other respected winners from media properties such as NBC network's owned & operated station, WNBC-TV and the Madison Square Garden Network.
The Emmy® award was presented to MediaSource by the New York Chapter of the National Academy of Television Arts and Sciences.
MediaSource, located in Columbus, Ohio, is a national leader in brand journalism. The company's team uses storytelling & journalistic tactics to discover and create news content on behalf of their health care client partners. The firm works with the nation's top health care providers including The Ohio State University Wexner Medical Center, Nationwide Children's Hospital, UCLA Health, Arnold Palmer Hospital for Children, American Society of Plastic Surgeons, National Jewish Health and Orlando Health.
This is one of the 12 awards that MediaSource has already won for 2015. Other awards include excellence for health care storytelling, bylined articles, earned media placements, creative tactics, external video, marketing communications, media relations, multimedia newsrooms and video news releases. The storytelling team is named the Best Health Care PR & Marketing Agency by Ragan Communications for the past two years in a row.
The 58th Annual New York Emmy® award ceremony was held on Saturday May 2, 2015 at the Marriott Marquis in Times Square.
Finalists in the category included Breast Cancer: Answers, Updates & Progress (WABC-TV), Medical Marvels (7online.com), Organ Donors: Connected For Life (WABC-TV) and The Big Idea: A Monthly Series Profiling Advances in Science, Health and Medicine That Can Impact Society (WNYW FOX 5).