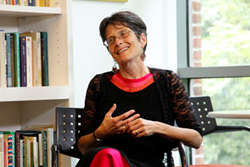 Sharon's recognition is a great honor not only for her, but for the Rabbinical School and Hebrew College as well.
NEWTON CENTRE, MA (PRWEB) May 27, 2015
Rabbi Sharon Cohen Anisfeld, Dean of the Rabbinical School of Hebrew College, was named by the Jerusalem Post as one of the 50 Most Influential Jews for 2015. Chosen by a committee made up of leading journalists, Israeli government officials and business leaders, the 50 most influential Jews recognizes leaders across a wide spectrum of roles and responsibilities, including government, corporate executives, entertainers, academics, scientists, and philanthropists.
"This list presents a compelling snapshot of world Jewry, its diversity and how they all impacted the world last year, and have the potential to affect change in years to come," commented Noa Amouyal, Features Editor of the Jerusalem Post. Among those recognized in addition to Rabbi Cohen Anisfeld are Israeli Prime Minister Benjamin Netanyahu, Chair of the US Federal Reserve Janet Yellen, Philanthropist and former New York City Mayor Michael Bloomberg, US Supreme Court Justice Ruth Bader Ginsburg, Hillel International President Eric Fingerhut, Philanthropist Lynn Shusterman, Nobel Laureate Elie Wiesel, and many other luminaries of our time.
Rabbi Cohen Anisfeld serves as Dean of the Rabbinical School of Hebrew College, a position she has held since 2006. Under her stewardship, the school has ordained 70 rabbis, who serve in a variety of leadership positions in congregations, schools, colleges and universities, hospitals and other healthcare settings, and innovative communal organizations. Known for its pluralistic, transdenominational approach, the school prepares rabbis to create vibrant and welcoming communities for all types of Jews, and to bring to those communities a contemporary Jewish spiritual language that is both authentic and accessible.
Prior to assuming her position at Hebrew College, Anisfeld spent 15 years working in pluralistic settings as a Hillel rabbi at Tufts, Yale and Harvard universities. She has been a summer faculty member for the Bronfman Youth Fellowships in Israel since 1993, and is co-editor of two volumes of women's writings on Passover, The Women's Seder Sourcebook: Rituals and Readings for Use at the Passover Seder (Jewish Lights Publishing, 2002), and The Women's Passover Companion: Women's Reflections on the Festival of Freedom.
"Rabbi Cohen Anisfeld's achievement in being recognized by the Jerusalem Post as one of the Most Influential Jews is certainly appropriate," noted Hebrew College President Rabbi Daniel Lehmann. "She has masterfully guided our Rabbinical School to a leadership position, engaging students and educating them to become key innovators and thought leaders within the organizations in which they choose to work. Sharon's recognition is a great honor not only for her, but for the Rabbinical School and Hebrew College as well. It demonstrates the college's important role, as a leader in Jewish pluralistic education, in shaping and engaging the Jewish community of the 21st century."
Rabbi Cohen Anisfeld commented upon being named one of the 50 Most Influential Jews for 2015, "This extraordinary honor is a reflection on the talent, creativity, and dedication of the faculty, students, and alumni with whom I am privileged to work at Hebrew College. We are blessed to be living in a time when so many are seeking an approach to Judaism that transcends denominational boundaries – drawing deeply on the wells of the past, and making Jewish wisdom accessible to a world sorely in need of healing and hope."
From 2011 to 2013, Rabbi Cohen Anisfeld was included in Newsweek's list of Top 50 Influential Rabbis in America. She graduated from the Reconstructionist Rabbinical College in 1990, where she will be honored together with several of her fellow alumni with a Doctor of Divinity in early June.
About Hebrew College
Hebrew College promotes excellence in Jewish learning and leadership within a pluralistic environment of open inquiry, intellectual rigor, personal engagement, and spiritual creativity. The College empowers and inspires individuals to contribute their voices and vision to the Jewish community and to bring Jewish values to bear on the critical issues of our time. For more information, visit http://www.hebrewcollege.edu.
About The Jerusalem Post
The Jerusalem Post was founded in 1932 by Gershon Agron. It is the leading Israeli English newspaper. For more information, visit http://www.jpost.com.