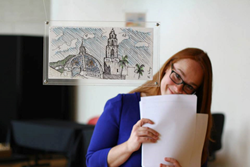 San Diego, CA (PRWEB) May 26, 2015
NewSchool of Architecture & Design (NewSchool) students have teamed up with the local San Diego chapter of the American Institute of Architecture Students (AIAS) to showcase the tradition of 'napkin sketching.' This unique practice will be celebrated at NewSchool during the Fourth Annual Napkin Sketch Auction on Friday, May 29 at 6 p.m. The live auction event is open to the public and presents the opportunity to bid on the original work and ideas hand-drawn on a napkin, specifically for this event, by prominent U.S. and international architects. All proceeds from the live auction help fund AIAS scholarships and programs for deserving architecture students. Individual napkins have previously been auctioned for as much as $5,000.
For architects and designers, inspiration arises at any given moment. Capturing the early components of an idea sometimes means resorting to jotting down key elements on a napkin, which themselves turn into little pieces of art. Students have gathered napkin sketches for the auction over the last few months. The project began as "a sketch for a sketch," with NewSchool students working diligently on their own napkin sketches to capture the attention of prominent architects. Students then mailed their sketches to the architects along with a request for an original sketch that could be auctioned during the AIAS event.
"Architects and designers historically have used napkins if they don't have anything else to draw on," explained David Garcia, a NewSchool architecture undergraduate who is serving as fundraising chair for the AIAS event. "If they're meeting a client or out at a coffee shop with little to sketch on when they receive a big idea, a napkin is the next best thing. So these napkins usually have primitive but valuable concept and ideas. We choose one of the architect's projects and draw them on each envelope we send out as a way to get their attention, but also to show that we spent some time in personalizing the invitation. Coordinating the sketches, although a lot of work, is very rewarding and a lot of fun. To be able to speak or communicate with some of these architects is exciting."
The Fourth Annual Napkin Sketch Auction includes submissions from notable architects including: Zaha Hadid; Thom Mayne; Cesar Pelli; Robert Venturi and many others. View a sneak peak of the napkins at http://aiasnsadevents.weebly.com/2015-napkins.html.
"Personally, this project means a lot to me, and not just because of the time and involvement, but because this is a nice way to bring students and their favorite architects together, even if it's just through a sketch," said Garcia. "Plus, since it's a fundraiser, the proceeds have been a great help to the success of the AIAS chapter."
Tickets for professionals and students include appetizers and two drink tickets, and can be purchased online at http://napkinsketch2015.bpt.me/.
WHO: NewSchool students exchange 'napkin drawings' with renowned architects as part of the Fourth Annual Napkin Sketch Auction, spearheaded by the American Institute of Architecture Students
WHAT: Public auction of original work sketched on napkins by renowned architects
WHEN: Friday, May 29, 6 p.m.
WHERE: NewSchool of Architecture & Design, Auditorium, 1249 F St., San Diego, CA
COST: The $15 and $10 tickets for professionals and students, respectively, include appetizers and two refreshments. Individual napkins have previously been auctioned for as much as $5,000. To purchase tickets and see a preview of the 2015 sketches please visit http://aiasnsadevents.weebly.com/
CONTACT:
Christina Borrego, (602) 721.5779, cborrego(at)riester.com
Jennifer Magana, (951) 858-1560, jmagana(at)riester.com
About NewSchool of Architecture & Design:
Located in downtown San Diego, NSAD prepares students for career success in design fields through an emphasis on interdisciplinary and global design skills, industry collaborations and real-world projects. Programs of study include architecture, construction management, product design, media design, game art, animation, interior architecture & design, strategic design & management. The school's design environment provides inspiration for the school's students and faculty, recognized for their work regionally and internationally. NewSchool is accredited by the Western Association of Schools and Colleges (WASC) Senior College and University Commission. NewSchool's Bachelor of Architecture, Master of Architecture and Executive Master of Architecture programs are accredited by the National Architectural Accrediting Board (NAAB). NewSchool is a member of the Laureate International Universities network – a global network of more than 80 campus-based and online universities in 29 countries. Through this network, students at NewSchool are prepared to work in a global and diverse work environment through the school's collaborations with award-winning schools around the world, such as: Domus Academy in Milan, Italy and Media Design School in Auckland, New Zealand. For more information about Laureate International Universities, visit http://www.laureate.net.