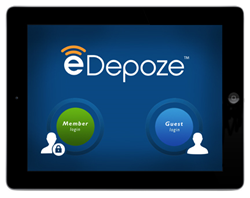 Our clients will be able to use the software to reduce paper costs, increase attorney productivity and bring the advantages of a collaborative platform to depositions and other areas of the litigation process
Austin, Texas (PRWEB) May 27, 2015
Advanced Discovery announced today that it has expanded its litigation software offerings to include the eDepoze platform, which features eDepoze's industry-leading deposition software and its Witness Prep 2.0TM product. The eDepoze system includes individual user accounts on a secure, cloud-based database; a web-based portal for account and document management and user interfaces through a web app and iPad app.
With eDepoze's deposition software, users securely upload potential exhibits to their accounts in advance of depositions, avoiding the hassle and costs associated with printing and transporting paper exhibits. In many cases, by using eDepoze attorneys can avoid travel to depositions. The software opens the door to new levels of collaboration and enables full control over the process. Using their PC or iOS-based devices, users securely share exhibits as they are marked and introduced, organize exhibits and annotate and retain personal copies of all deposition materials.
Similarly, eDepoze's Witness Prep 2.0 software enables attorneys to use electronic documents for witness preparation collaboration. With Witness Prep 2.0, attorneys can share documents and conduct witness interviews in person or remotely, eliminating the time-consuming and costly process of printing documents and traveling to numerous face-to-face witness prep sessions.
"We believe eDepoze will be a great complement to our award-winning eDiscovery service and software offerings," said Rick Hutchinson, chief operating officer of Advanced Discovery. "Our clients will be able to use the software to reduce paper costs, increase attorney productivity and bring the advantages of a collaborative platform to depositions and other areas of the litigation process."
"We're pleased to partner with Advanced Discovery and provide their clients with benefits stretching seamlessly from the outset of a case through trial," said Shawn Kennedy, CEO of eDepoze. "Attorneys and their teams will be able to review and analyze their case documents electronically through Advanced Discovery's eDiscovery software, then continue to work with those documents in electronic form as exhibits for depositions, arbitrations and other events."
The software is easy to use and provides a number of features and benefits for law firm users:

Enhanced collaboration: Attorneys and their case teams have shared access to collections of the electronic documents they plan to use for upcoming depositions and witness prep sessions. Because eDepoze is integrated with Relativity®, documents may be imported directly for use as potential exhibits.
Paperless deposition exhibits: Mark documents with custom exhibit stamps and instantly share them with all deposition participants using a desktop, laptop or iPad.
Intuitive process: Electronic exhibits mimic the paper deposition exhibit experience, including ensuring confidentiality of potential exhibits beforehand, marking and sharing individual exhibits on the fly and enabling participants to annotate and save personal copies.
Instant access: Walk away with immediate access to the official, stamped deposition exhibits plus any personal annotated versions.
Efficient witness preparation: Upload electronic copies of relevant documents for witness prep sessions, provide secure access for witnesses and the entire litigation team to review documents in advance and conduct a live witness prep session by sharing individual documents with participants as the session proceeds.
Remote participation: Individual users can attend a deposition or witness prep session remotely, or even take an overseas deposition from their office.
Streaming text: Enables local and remote deposition participants to review exhibits and watch the real-time text feed from the court reporter, all in a single platform.
Presentation mode: The session leader can share a synced view of a document with the witness and other participants with the touch of a button.
Cost savings: Save hundreds or thousands of dollars by not having to print, copy or ship exhibits, plus save even more on travel costs when using the software remotely.
About Advanced Discovery
Advanced Discovery is an award-winning, end-to-end eDiscovery software and services provider, supporting law firms and corporations nationwide since 2002. Advanced Discovery offers project planning and budgeting, data preservation and forensic collection, early case assessment, hosted review, managed document review and more from its numerous state-of-the-art facilities across the country. The company employs leading professionals in the industry, applies defensible workflows and provides industry-proven technology across all aspects of the eDiscovery life cycle. This devotion to excellence has earned Advanced Discovery inclusion on the Inc. 5000 list of fastest growing companies in the US and recognition as a top provider by Legal Times, Texas' Best and other publications. More information is available at http://www.advanceddiscovery.com.
About eDepoze, LLC
eDepoze, LLC is a cloud computing company whose flagship product, eDepoze, is a powerful, yet easy-to-use cloud-based deposition software system—with an iPad or web browser interface—that delivers the convenience, efficiency and cost-effectiveness of a paperless deposition while mirroring the tried-and-true deposition process that litigators have used for decades. eDepoze, LLC is headquartered in Irvine, CA. For more information, visit eDepoze.com.
Media contacts:
For Advanced Discovery, LLC: Glenda Hoffman marketing (at) advanceddiscovery.com
For eDepoze, LLC: Ashley Allman 206-390-8731 ashleymarieallman (at) gmail.com