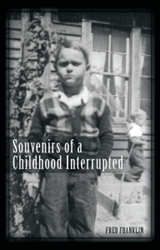 When Floyd – drunk once again – pushes his sons too far with a violent act, Fred responds with murderous intent.
MARION, La. (PRWEB) May 28, 2015
When a father of three is sent to prison for an unthinkable crime while drinking, it creates lasting effects on his descendants. In this new biography, Fred Franklin describes how his life echoed the poor choices of his rage-filled, alcoholic father. His story of survival – and the role forgiveness played in it – provide a modern-day fable for the power of perseverance.
In "Souvenirs of a Childhood Interrupted," which begins in the 1930s in rural Louisiana, Franklin tells how his father, Floyd, was miraculously set free from prison after killing a man, thanks to a grandfather's plea about family hardships. Floyd went on to father more children – including the author, born in 1945 in an old log shack. The children never knew how their father would act when he was drinking, from a vicious whipping for real and imagined mistakes to invitations to spontaneous fishing trips.
Fred grew up as a tough little boy who, along with his family, made do with what little they had. The woods became their playground, and hard work was a fact of life. Alcohol-fueled trips down memory lane become commonplace. When Floyd – drunk once again – pushes his sons too far with a violent act, Fred responds with murderous intent. Fate steps in once more, but the day will have far-reaching effects on the entire family.
Author Fred Franklin is a retired field office manager for a national pipeline construction company. The avid outdoorsman enjoys hunting, golfing, fishing and cooking. He tends his pecan orchard, writes country, bluegrass and blues songs, and loves music, art and literature. Franklin and his wife Diane, high school sweethearts who have been married 49 years, have two daughters, six grandchildren and four great-grandchildren. They live on an 18-acre farm in Linville, La.
-------------------------
For additional information, please visit http://www.fredfranklinauthor.com
Souvenirs of a Childhood Interrupted
Fred Franklin
Dog Ear Publishing
ISBN: 978-1-4575-3747-9 208 pages Hardcover $29.95 US
Available at Ingram, Amazon.com, Barnes & Noble and fine bookstores everywhere.
About Dog Ear Publishing, LLC
Dog Ear Publishing offers completely customized self-publishing services for independent authors. We provide cost-effective, fast, and highly profitable services to publish and distribute independently published books. Our book publishing and distribution services reach worldwide. Dog Ear authors retain all rights and complete creative control throughout the entire self-publishing process. Self-publishing services are available globally at http://www.dogearpublishing.net and from our offices in Indianapolis.
Dog Ear Publishing – self-publishing that actually makes sense.