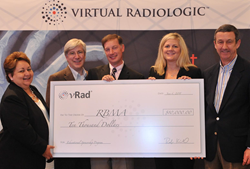 What an amazing learning experience for someone new to the industry or someone needing a refresher.
Fairfax, VA (PRWEB) May 28, 2015
The Radiology Business Management Association (RBMA) is pleased to announce the winners of the 2015 Bob Luther Emerging Leader Travel Scholarship and three of the six vRad Education Scholarships.
The Bob Luther Emerging Leader Scholarship Travel Scholarship gives RBMA members who are first-time practice managers or are interested in becoming a practice manager a chance to attend either the RBMA Radiology Summit, June 7 to 10, 2015, or the RBMA Fall Educational Conference, Sept 27 to 29, 2015. It consists of up to $1,000 to cover travel expenses and free registration to the conference (a $840 value).
The scholarship honors former RBMA president and dedicated member Bob Luther. This year's winner is Jammia Shea, a billing liaison officer at Medical Center Radiology (MCR) of Virginia Beach whose career reflects her ability to merge deep subject-matter expertise with management roles to become a promising upcoming leader in her field.
The vRad Education Scholarship is made possible through the RBMA's partnership with Virtual Radiologic (vRad), a technology-enabled national radiology practice. It helps cover travel expenses and registration for qualified current RBMA members who have been unable to attend an RBMA conference in the last three years. Through the partnership, vRad provides six $1,500 scholarships to further access to education and peer-to-peer knowledge sharing and networking opportunities. Three of these scholarships are awarded for the RBMA Summit and this year went to:

Christine M. Keefe, CPA, CMPE, chief financial officer and director of Strategic Initiatives for Metro Imaging in St. Louis, Missouri
Sheniece Rouse, practice director for the Georgia Radiology Imaging Consultants, a Radiology Partners Practice, in Columbus, Georgia
Kellee Timpson, imaging services manager for Northwest Radiologists/Mt. Baker Imaging in Bellingham, Washington
Attending an RBMA meeting is often a transformative experience for scholarship winners. "At the RBMA conference, I learned so much about the industry, its obstacles, and met so many individuals in the same shoes as my own," said Sarah Chester, the 2014 Bob Luther Scholarship Recipient. "What an amazing learning experience for someone new to the industry or someone needing a refresher."
Erica Lane, a 2014 vRad Scholarship recipient, stated that she had an "amazing" experience. "I met colleagues from around the nation and learned so much," she said. "My biggest takeaway was that we are all fighting the same battle and everyone is willing to share victories and defeats to improve the field of radiology."
The Radiology Business Management Association is a national not-for-profit association providing members with applied business information and intelligence applicable in any radiology setting. The RBMA has approximately 2,300 members involved in various management capacities in private practices, academic radiology groups, imaging centers and hospitals. The RBMA continues to be recognized as the leader for radiology-specific educational programs, products and services, publications and data.
More information about RBMA scholarships, including how to apply for 2016 awards, is available at http://www.rbma.org/Scholarships/