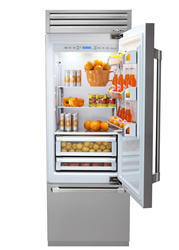 For the past several years Dacor has worked closely with designers, architects and avid home chefs during Dwell on Design and we have listened closely to constantly improve our designs and innovative technology. -Dacor CEO Chuck Huebner
LOS ANGELES, CA (PRWEB) May 27, 2015
Celebrating 50 years of innovation, Dacor®, a Southern California based manufacturer of ultra-premium kitchen appliances, is unveiling the Dacor Alchemy™ series of color infused stainless steel finishes to give designers and homeowners a personal design statement in the kitchen, at the 10th Annual Dwell on Design LA, booth 1746.
"For the past several years Dacor has worked closely with designers, architects and avid home chefs during Dwell on Design and we have listened closely to constantly improve our designs and innovative technology," said Dacor CEO Chuck Huebner. "There's simply no better way for people to experience the luxury, culinary prowess and beautiful designs of our award-winning products than to see them in person."
TWEET THIS: Searching to find an alternative to stainless? @Dacorkitchen introduces metallic color infused appliances at #DODLA
Consumers have gravitated toward stainless steel appliances and now they can move 'beyond stainless' to create a high-end designer look in color. The new metallic finishes, an extension to the DacorMatch™ Color System, will be offered later in 2015 in four custom colors including rose gold, nickel, copper and gunmetal.
"Dacor empowers our customers' self-expression not only through cooking, but also through creative kitchen design," says Dacor President Steve Joseph. "Our interaction with designers has played an important role in creating the seamless integration, color personalization and fully connected appliances that consumers want."
Dacor will showcase the following products at Dwell on Design:

New metallic Range and Range Hood (Prototype)
Discovery® 36- and 30-inch Fully Integrated Refrigerator
Live cooking demonstrations are scheduled for:

Le Cordon Bleu Chef, Steven Haulde
o Friday, May 29 at 12 pm, 2 pm and 5 pm

Celebrity Chef Jan D'Atri
o Saturday, May 30 at 12 pm, 2 pm, and 4 pm
o Sunday, May 31 at 11 am, 12 pm and 2 pm
Dwell on Design is held at the Los Angeles Convention Center May 29 – May 31. Dacor is giving away a Renaissance 30-inch Gas Range valued at $5,199 at booth 1746. To learn more about Dacor visit http://www.dacor.com or http://www.facebook.com/dacor.
# # #
About Dacor
Celebrating its 50th anniversary, Dacor is a manufacturer of ultra-premium kitchen appliances. Designed and built in California, Dacor's cooking appliances integrate function and technology to create high-performing, intuitive products that reflect the lifestyle and needs of the passionate cook. Since 1965, Dacor has been responsible for many of the innovations that have improved the way people cook in the modern kitchen. Dacor is family-owned and embraces the legacy, heritage and expertise of a third generation to lead the company into a new age of cooking innovation. Dacor is also the first and only luxury appliance brand to be tested and recommended by the Master Chefs of Le Cordon Bleu. Le Cordon Bleu is considered the world's most respected culinary arts and hospitality educator.
About Dwell on Design
Dwell on Design LA (DODLA), is America's largest modern design event attracting more than 30,000 attendees in Los Angeles, CA May 29 – 31, 2015. The event, held at the Los Angeles Convention Center and produced by Dwell magazine, showcases new design ideas, products, and services in conjunction with world-class design speakers, exhibitions, & home tours. More than 400+ national and international exhibitors across all home design categories participate and over 200+ design leaders will present this year. Among Dwell on Design's industry partners this year are the American Society of Interior Designers (ASID), the American Institute of Architects (AIA), the National Kitchen and Bath Association (NKBA), the National Association of Home Builders (NAHB), the United States¬¬¬ Green Building Council (USGBC), and many others.