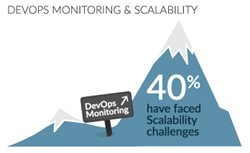 "Most of our customers have embraced [DevOps] - delivering code quickly and reliably enough to turn IT into a competitive advantage."
Fulton, MD (PRWEB) May 28, 2015
Circonus, a leading provider of analytics and monitoring solutions for IT operations and DevOps, announces the results of DevOps and Monitoring survey conducted at ChefConf 2015.
Monitoring is an unsurprisingly accurate barometer for DevOps adoption in an organization. For traditional IT, there is typically a handoff from developers delivering code to a centralized operations team, which is responsible for monitoring the performance of that code in production. DevOps organizations seek to break down the barriers between operations and development, fostering collaboration and enabling more developers to be responsible for their own code all the way through production.
"Despite the recent attention in the media, DevOps is not a new movement," said Theo Schlossnagle, Founder and CEO of Circonus, "Most of our customers have embraced this approach - delivering code quickly and reliably enough to turn IT into a competitive advantage that advances their digital businesses. Whether it's a better customer experience or a new product offering, our customers focus on delivering for the business and trust us to take care of the monitoring solution."
We conducted this survey at the recent ChefConf show. Some of the results were what we expected, especially of such a DevOps-oriented audience. Other results were surprising, as we tried to gauge, for example, how far along people were on their DevOps journey and, in particular, what the new DevOps requirements were for monitoring tools.
The Numbers - Highlights

40% said they have run into scalability challenges with their monitoring
70% said that Engineering is not satisfied with their current monitoring platform
More than 80% of respondents use open source monitoring tools but overall only gave them an average grade
93% said correlating operations performance and business metrics is important or very important, but only 1 in 3 have tools that help them do it
"The survey results only emphasize what our customers have told us - traditional monitoring tools do not meet the needs of DevOps teams," said Schlossnagle. "Before Circonus, our customers turned to open source or built their own tools, but they still ran into limitations. More recently, we are seeing more tools vendors build with DevOps monitoring in mind, but as you can see from the survey, there is still room for improvement."
Key Takeaways:

DevOps has different requirements and expectations when it comes to monitoring, which traditional monitoring tools cannot meet.
Reliability is critical in DevOps environments that must accommodate new levels of speed and scale.
DevOps values monitoring and analytics tools that can provide intelligence beyond simple status, and can correlate IT performance to business metrics.
Download the full report here: http://www.circonus.com/lps/devops_and_monitoring_survey.php
Or visit http://www.circonus.com for more information on DevOps monitoring solutions.