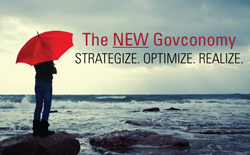 Between 2012 and 2014, government spending has increased 22 percent, from $87.6B to $107.5B, among recipient companies in the Washington metro region.
Rockville, Md. (PRWEB) June 02, 2015
Aronson LLC, a nationally ranked top 100 accounting and consulting firm, today announced that it would offer government contracting clients a new array of packaged services designed to help them "strategize, optimize and realize" in a changing market.
Even though the federal budget is tighter and sequestration still looms overhead, contractors in the Mid-Atlantic region have continued to prosper due to an increase in the total dollars spent by the government over the past three years in Maryland, DC and Virginia. Between 2012 and 2014, government spending has increased 22 percent, from $87.6B to $107.5B, among recipient companies in the Washington metro region [1].
"It's great news for local contractors that the mid-Atlantic region is still increasing its 'piece of the pie,' but it's important to keep it in perspective. While the federal spend has increased, dollars are still tight," says Lexy Kessler, lead partner of Aronson's government contracting practice. "LPTA [lowest price technically acceptable] has wreaked havoc in the industry, but now that the worst of it is behind us, contractors have a brief opening to position themselves for the growth opportunities ahead."
Aronson is helping clients adopt an updated "back-to-business-fundamentals" approach, taking cues from the commercial market on how to strategize, optimize and realize for success. This may include tactics such as streamlining their operations, tightening up their compliance strategies, and innovating to become more competitive. To this end, the company has introduced several new packaged service offerings that are designed to help their clients adapt to what Aronson has dubbed the "New Govconomy."
New service packages include:

Annual Outsourced Compliance Monitoring
Compliance Risk Assessment
Pre-Acquisition Preparedness and Post-Acquisition Integration
ESOP Process Evaluation
Tax Minimization Review
Assurance Mid-Year Review
Aronson Capital Partners Strategic Business Assessment
The Aronson Touchstone Program (accounting systems implementation)
For more information about Aronson's new service packages for government contractors, please contact Roger Yasin at 301.231.6200.
[1] Source: USASpending.gov; Data downloaded March 12, 2015; Summary of government spending by recipient companies located in DC, Virginia and Maryland (excluding Hampton Area cities: Virginia Beach, Norfolk, Newport News, Suffolk, Hampton, and Portsmouth).
# # #
About Aronson LLC
Aronson LLC has been thinking ahead for its clients for more than 50 years. Aronson's government contracting, construction, real estate, nonprofit, technology and private industry experts provide innovative audit, tax, and consulting services that help its clients move to the next level. From start-up to exit strategy, Aronson works with companies throughout the entire business lifecycle by proactively identifying opportunities and addressing challenges so that clients are able to focus on their core business. Aronson shows companies how to strategize, optimize and realize to be more profitable, more competitive and better prepared for the future. For more information about Aronson, visit http://www.aronsonllc.com and follow us at @AronsonLLC for news and updates.