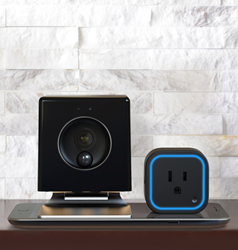 (PRWEB) May 27, 2015
"Oomi" was featured on NewsWatch as part of its monthly Tech Report, which features the latest and coolest technology products available to consumers. Mallory Sofastaii, a technology expert and special reporter for NewsWatch, conducted the review and shared with viewers how these solutions monitor everything in a home, from motion to temperature to breaking windows.
Smart home devices are becoming increasingly popular, changing the way people interact with their house. A home system that's making waves in the market is Oomi. And at the heart of Oomi is the Oomi Cube which protects homes with its night vision and sensors. It will detect everything from motion, temperature, breaking windows, vibrations - even humidity.
To install Oomi, the device simply needs to be removed from the box and powered up. Then the user will need to tap the cube with the accompanying Oomi Touch. The device will detect each other and sync together. And with this new tap-and-touch feature, the Oomi Touch effectively removes any other set-up steps.
Users can use the Oomi Touch in conjunction with any Oomi accessory to get it up and running and recognized as part of their system. It's also the device which controls an entire smart home. Unlike other smart home controllers, Oomi Touch can control entertainment system as well. The Oomi Plug is also included, which allows users to turn any outlet into a wireless outlet. That means anything plugged into that outlet can be controlled remotely, from lights to small appliances to robots. The Oomi home system is offers the most convenient devices to turn any home smart.
To learn more, visit http://www.oomihome.com today.
About NewsWatch
NewsWatch is a weekly 30-minute consumer oriented television show that airs on the History Channel, FYI Network, and ION Network. NewsWatch regularly features top technology products and services, mobile applications for iOS, Android, and Windows devices, unique and beautiful travel destinations around the world, health and medical tips, and entertainment interviews on the show. NewsWatch airs on the History Channel at 6:00 – 6:30 AM ET/PT and on the FYI Network from 7:00 – 7:30 AM ET.
NewsWatch is located in the greater Washington, DC area and has been on air for over 25 years. For more information or to watch the most recent episode, visit http://newswatchtv.com/tech-report.html.