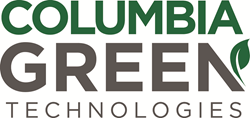 "CCW is pleased to partner with Columbia Green, bringing their outstanding reputation for quality and providing premium solutions for customers," said Keith Rivers, CCW National Accounts Manager. "These systems are time-tested, so customers can feel confi
Portland, Oregon (PRWEB) July 09, 2015
Columbia Green Technologies (Columbia Green) has formed a strategic partnership with Carlisle Coatings and Waterproofing (CCW) to offer a single source solution for waterproofing, insulation and vegetative roofing.
Sustainable building envelope design presents unique challenges for architects and engineers because of competing systems functions. A single source for the building envelope system ensures seamless functionality for waterproofing both below and above grade, insulation for optimal energy efficiency, and stormwater management with a green roof.
CCW provides the waterproofing membrane used in the solution. For more that 45 years, CCW's solutions have lead the way in providing watertight, reliable waterproofing solutions to suit varied site solutions. Offering time-tested systems and innovative solutions that incorporate the latest waterproofing technologies.
Leveraging the strategic partnership between CCW and Dow Building Solutions, a business unit of The Dow Chemical Company (NYSE: DOW), the solution exclusively uses STYROFOAM™ Brand Insulation manufactured by Dow Building Solutions, an integral component in the system for its excellent insulating and moisture resistance properties.
"CCW is pleased to partner with Columbia Green, bringing their outstanding reputation for quality and providing premium solutions for customers," said Keith Rivers, CCW National Accounts Manager. "These systems are time-tested, so customers can feel confident in the integrity of their waterproofing, insulation and green roof systems."
Columbia Green Technologies is a manufacturer of Carlisle's garden roof system. Garden roofs, also known as green roofs or vegetative roofs, are used for on-site stormwater management, reduction of the urban heat island effect and other environmental benefits.
"We are excited to partner with Carlisle Coatings and Waterproofing. Columbia Green offers innovative green roof systems engineered for stormwater management and optimal plant health. Our waterproofing partnership allows CCW to offer a single source warranty that inspires confidence in the implementation of our system," says Vanessa Keitges, President and CEO of Columbia Green Technologies.
This partnership allows designers to identify a single source for the entire building envelop including the green roof, ensuring long term system integrity for building owners and developers. System solutions are of increasing importance in the implementation of green building practices and Columbia Green expects to see widespread adoption of green roofs with a single source warranty.
About Columbia Green Technologies
Columbia Green Technologies offers innovative green roof solutions for extensive, semi-intensive and intensive roof gardens. Cities across the world are using vegetative roofs to manage environmental issue related to stormwater, urban heat island and loss of habitat. Our products were engineered to maximize stormwater retention and create an environment for optimal plant health. We partner with leading manufacturers of waterproofing materials to offer a complete, single-source warrantied solution for every type of roof construction. We are committed to improving our environment and economy; our products are made in the USA and support low impact development, LEED building. columbia-green.com
About Dow
Dow (NYSE: DOW) combines the power of science and technology to passionately innovate what is essential to human progress. The Company is driving innovations that extract value from the intersection of chemical, physical and biological sciences to help address many of the world's most challenging problems such as the need for clean water, clean energy generation and conservation, and increasing agricultural productivity. Dow's integrated, market-driven, industry-leading portfolio of specialty chemical, advanced materials, agrosciences and plastics businesses delivers a broad range of technology-based products and solutions to customers in approximately 180 countries and in high-growth sectors such as packaging, electronics, water, coatings and agriculture. In 2014, Dow had annual sales of more than $58 billion and employed approximately 53,000 people worldwide. The Company's more than 6,000 product families are manufactured at 201 sites in 35 countries across the globe. References to "Dow" or the "Company" mean The Dow Chemical Company and its consolidated subsidiaries unless otherwise expressly noted. More information about Dow can be found at http://www.dow.com.
About Carlisle Coatings & Waterproofing
Carlisle Coatings & Waterproofing is a leading provider of waterproofing membranes, membrane air barriers and foam board insulation products. Its 21st century product line-up includes: MiraPLY self-adhered blindside waterproofing membranes; R2+ polyiso foam for diverse above-grade wall assemblies; and Fire-Resist membrane air barriers that achieve ASTM E84 Class A burn rating and pass NFPA 285 in many wall assemblies. Headquartered in Wylie, Texas, the company has plant locations in Wylie and Terrell, TX; and Carlisle, PA. It is part of the Carlisle Companies Incorporated (NYSE: CSL).